Californication Review: "Another Perfect Day"
by Chris O'Hara at .
We joined Hank on the Friday before the Monday when he was to stand trial for crimes against humanity. After he was kicked out of the hotel, Becca found him sleeping in his car outside their home. Becca couldn't believe that Hank was unable to find a floozy to shack up with and, frankly, so was I.
Shortly after, Hank cracked himself up at the breakfast table. Just when it appeared that Karen and Becca had grown tired of Hank's boyish humor, he got them laughing with his impression of Karen driving with her tongue and, just like that, the family chemistry was back.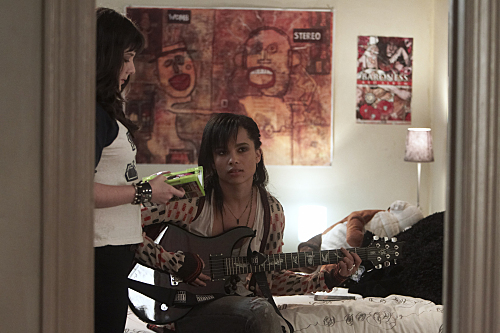 The family reunion continued on "Another Perfect Day" when Karen and Hank tried to teach Becca to drive. As Pink Mountaintops played, Hank rode in the back seat like the family dog that you can't help but love no matter how many times he craps on your rug.

At Stu's house, Marcy looked anxiety-ridden as Charlie and Peggy entered. Charlie was equally awkward as he extended his left hand toward her in some bizarre greeting gesture. Did he expect her to kiss it? Charlie was none too pleased to learn of Marcy's pregnancy. I thought it funny that I didn't see anything wrong with her pouring that huge glass of wine until Stu made a scene and pulled the glass from her pregnant lips.

Karen readied herself for a dinner of her own with Ben, as Hank wished he were the one taking her out. News flash, Hank: you were and you blew it on multiple occasions. Instead of the hope that once filled her eyes when she looked at him, all Hank saw was disappointment. Karen and Hank shared a beer and she confessed she used to be powerless in the presence of his smile. She dismissed her apprehensions then because she trusted his smile and felt safe around it.

But one day she woke up and things had changed. She had been tricked because the man behind that smile had changed. Karen will always love Hank, but she can't wait around anymore for him to grow up.

Speaking of growing up, Becca and Pearl schooled Hank on what kids today do for fun, which consisted of getting fucked up and searching the Net for stupid shit. Pretty much the modern day equivalent of when Hank used to hang outside the 7-Eleven and wait for something cool to happen. Hank misfired time and time again in his attempts to relate to Becca and Pearl, but I give him credit for trying.

How about the face Hank made after Becca admitted to him his dinner tasted like ass and Pearl added "not the good kind, either."

Becca felt bad about wrecking Hank's car, but Hank isn't Cameron Frye's dad. Hank couldn't have cared less about the car so long as Becca was okay. Becca admitted she was scared about the trial. If found guilty, people would never be able to see the man she sees and loves in her father. Regardless of the trial, Hank's actions have always hidden his softer, caring side from most people's eyes. A guy like Ben will never see it.

Like the scene at the accident showed, given his history, it was easy for Ben to quickly pass judgment on Hank.  Let's hope the same doesn't happen in the courtroom.

Karen doesn't know how she and Hank got to this point in their lives, but it's where they are now and Hank has painted himself into a pretty ugly corner. The question remained at the end of this week, like Axel Rose once put it: "Where do we go now, where do we go?"

A decent set up episode that left us asking, will Hank be exonerated? If so, who will be his saving grace?

Tags: Californication, Reviews
From Around the Web