How I Met Your Mother Review: "Legendaddy"
by Chris O'Hara at .
After a long break, How I Met your Mother returned and served up some clarity, as Barney met his real father on "Legendaddy."
John Lithgow would not have been my first choice to play the role. In fact, I don't think he would have made my top 10. I kept seeing the Trinity Killer and half-expected Dexter Morgan to appear. That said, he and Barney had good chemistry and delivered some rather comic scenes during the fake flash back and then some more emotional ones during the family dinner.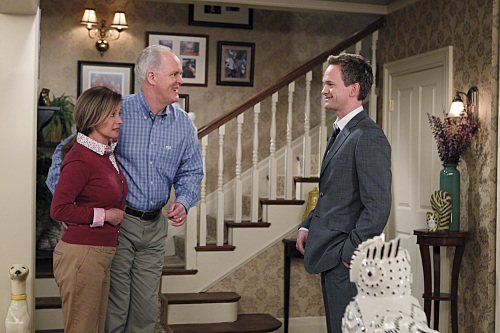 Did Barney's friends overstep their bounds with the intervention? I mean, who were they to say Barney needed to give his father another chance? After Marshall dropped the line about how he would never speak to his dad again, though, it was sort of hard to argue with him.

I thought the interaction between Barney and Jerry was well done. It was a nice blend of comedy with some real emotion mixed in. Amazing line by Barney when he ribbed J.J. for getting into print media. Trying to rip down the basketball hoop was a bit dramatic, but the lesson Jerry taught him - Lefty Loosey Righty Tighty - was amazing in its simplicity. I recall learning that simple yet extremely helpful device myself and it has always served me well.

I felt for Barney as he stood on the hood of that car and made Jerry answer for his years of absence. The line about how a kid needs a hoop was a great way to close out the emotional episode. 

While Barney was clearly the main focus of the episode, I absolutely loved the gap conversations between the others and the revelation that they had been taking it easy on Marshall ever since his father died. I empathized with Ted and his life spent mispronouncing the word "chameleon." I myself used to read the word "lingerie" phonetically and thought the stuff people bought at Victoria's Secret was the French version and pronounced as such.

And by "used to," I mean up until last year. 

Marshall's line about how Lily is the one who urinates on the floor was special, but the winner was when he tried to catch Ted and Barney coddling him and claimed Phantom Menace was the best Star Wars movie. 

Overall, the sitcom pulled at our heart strings yet again, but also allowed the cast to shine, playing to its strengths. A good episode with a number of solid quotes. Browse through them NOW!

Tags: How I Met Your Mother, Reviews
From Around the Web