Lady Heather Returns "Unleashed" on CSI
at . Comments
The return of Lady Heather made "Unleashed" a great CSI episode full of awesome character insight and interaction that played nicely with the week's two cases. 
I've missed Lady Heather, and I love that she has returned to the show in a different role. She's no longer a dominatrix, but a psychiatrist specializing in sex therapy.
The career change was appropriate, but even as Dr. Kessler, Lady Heather remained the same strong, intelligent, and observant character she had always been.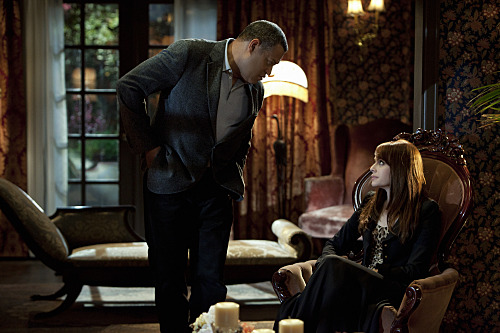 The interaction between Sara and Lady Heather was amazing. The body language and tone imparted by both women spoke volumes about their feelings regarding each other.

Clearly, Sara has the bigger issues, but I'm sure Lady Heather has her own axe to grind with the CSI.

Ray and Lady Heather conjured some interesting insights into his character. Not much new information was given, but it was nice to have an official statement that the choice for Ray will come down to fighting what he sees as his own inner nature.

We'll have to see how it all plays out. I do hope his confiding in Lady Heather will mean we get to see more of her in up coming episodes.

Nick had his own emotional trials to go through. I was sort of half-hoping, half-wondering if he might end up taking custody of the baby he and Doc Robbins helped to save. Obviously, that drastic step wasn't taken, but Nick took that case very seriously. I'm sure he, at least, felt vindicated that the bullies could be arrested.

The PSA regarding cyber-bullying and the importance of parental involvement toed the line of being overbearing. However, it's a pertinent issue, and sometimes shows like CSI help to place such things in the light where they belong.

This was a pretty solid episode. My complaints basically fall under personal taste and don't really bear mentioning. I look forward to further excellence in the upcoming episodes leading to the season finale.

Tags: CSI, Reviews