Season 9 of Family Guy went out with a bang.
During the hour-long episode, "Episode VI: It's a Trap," the sitcom managed to retell the epic tale of how Han Solo, Princess Leia, Luke, Chewie, and the rest of the gang defeated the evil Empire, ending their three-year run tradition of interpreting Star Wars. Peter hinted that we might get the prequels via The Cleveland Show, so we might not have seen the last of Star Wars as imagined by Seth MacFarland.
Although the flying words insisted that FOX forced them to finish the trilogy and that we, the audience, should lower our expectations, I thought they did a pretty good job of keeping it entertaining.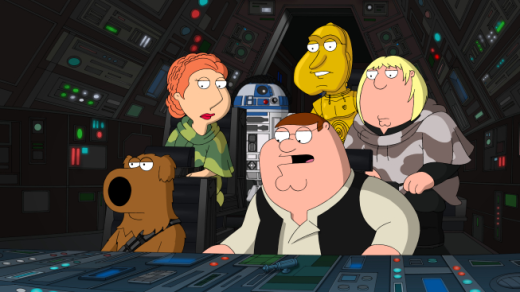 Because we all know (or should know) how it went down on Star Wars, I won't bore you with the recap of the tale. Let's instead break down the finer details of the episode. I found the additional guest stars entertaining. Carter Pewterschmidt as the Emperor was nonchalant evil at its best, while we got a taste of what a Family Guy-American Dad-The Cleveland Show crossover would look like.

With Klaus as a surprisingly fitting German General Ackbar and Tim the Bear as a dark Ewok, the new characters contributed nicely to the original cast. Of course, Meg got her usual treatment by playing Sarlaac, the wordless "worst creature in the world." Poor Meg.

Stewie as the tiny football-shaped Darth Vader stole the show yet again with his gay jokes and non-evil non-sequitors. His interaction with the Emperor was so mundane that it made me wonder what the real Emperor and Darth Vader discussed when they ran out of ideas on how to take over the galaxy. To turn Chris/Luke over to the dark side, Stewie/Vader and Carter/Emperor mock Seth Green, who is, naturally, the voice actor for Chris.

Another wonderful part of "It's a Trap" is how the episode managed to point out inconsistencies from the actual movie. When Chris asked Yoda who his sister is, Yoda snapped, "The only woman in the galaxy!" It's certainly a fair point: how could Luke not have figured it out by then?

The interactions with Ewoks were all highly entertaining. The cute fuzzy breakout figures of Star Wars caused a lot of contention for our Family Guy characters. Peter sarcastically asked Leia how they could braid her hair when their weapons are primitive at best. Meanwhile, the cuteness of the Ewoks contrasted with their darker than usual behaviors of cannibalism and general violence.

My memories of Ewoks will forever be scarred by the image of one feeding upon its dead comrade's arms. Another image that will also stick with me was the montage of the Storm Troopers stripping down to their undies while pelting one another with Ewoks. Who knew that there were busty female Storm Troopers who could giggle and pillow-fight with Ewok carcasses?

I very much enjoyed "It's a Trap!" It did Star Wars justice; not only with its music and action sequences, but also in how the events transpired. Sure, it's not exactly how Star Wars actually happened- when Stewie/Vader asks Chris/Luke to take off his helmet to gaze upon his sons face... and Chris accidentally snaps his neck, I almost lost it -  but it's all there in spirit. 

I also hope that The Cleveland Show does really do a prequel; I'd love to see how much fun they could have butchering the three movies that butchered the original Star Wars. What did you think of the episode? Did you find it disappointing or a fitting end to a Family Guy staple?

Tags: Family Guy, Reviews