A young girl wasn't the only person "Lost" in this week's episode of the same title. Whitehead was at a loss and in need of some serious shooting help, while Lt. Rice found herself out of the loop of her estranged daughter's engagement.
Even in the midst of a very intense case, Memphis Beat has a knack for delivering compelling stories with charm, wit and humor.
Here, White's need to qualify for the Lietenant's exam forced him to ask Sutton for help. While difficult for the detective, it yielded advice that seemed to have him at least shooting onto the target.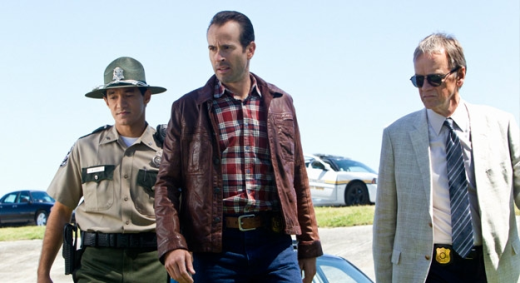 I wish Whitehead the best of luck in his endeavors, but I wonder what really prompted this gradual change in him? What exactly happens once White actually achieves his goal? What impact that will have on Dwight and Whitehead's relationship? All these are questions I look forward to having answered as the season progresses.

Lt. Rice also had a very strong performance as an estranged parent to a daughter getting married. I'm sure she was sufficiently lost - and no doubt hurt - to receive all those congratulations calls without even being told by her own daughter she was engaged. I wasn't surprised when Dwight eventually called her out about taking the anger out on the staff.

I also wasn't surprised when she over-identified with Mr. Cresco, the estranged father of the missing girl. I'm hoping that Rice gets to reconcile with her daughter this season. She's a powerful character when she gets the screen time.

While we continue to learn more about characters such as White and Rice, I wonder what the writers have in store for Greenback and Sutton. Who knew that awkward and accident prone Sutton was such an excellent shot?

Dwight was back to his singing in the club at the end of the episode with his rendition of "Always on my mind, " a welcome sight in a season that's mixed it up in these opening episodes. While I have enjoyed the variety, the club scene at the end made a welcome return.

C. Charles is a TV Fanatic Staff Writer. Follow her on Twitter.

Tags: Memphis Beat, Reviews