The confirmed death of Ian shocked viewers on Pretty Little Liars this week. But our staff has overcome the trauma enough to gather together below and analyze "Blind Dates" in the latest edition of the TV Fanatic Round Table.
As always, reader feedback is encouraged on the topics that editor-in-chief Matt Richenthal discusses here with writers Carissa Pavlica and Steve Marsi...
~~~~~~~~~~~~~~~~~~~~~~~~~~~
What was your favorite scene from the episode?
Matt: The final one. I truly didn't expect anything to come from the meeting between Melissa and Wren. PLL has a way of adding more questions without really answering any. But I may have woken up my neighbor's dog when I screamed at the sight of Ian's body.
Steve: Jason without a shirt. Only because it's hilarious how the show tosses one of these in each week. So far, we've had Ezra, Toby and now Jason. What guy will be next?!?
Carissa: When the doctor's office was destroyed. I know it's doubtful, but maybe such an act will make her realize how these girls have been suffering.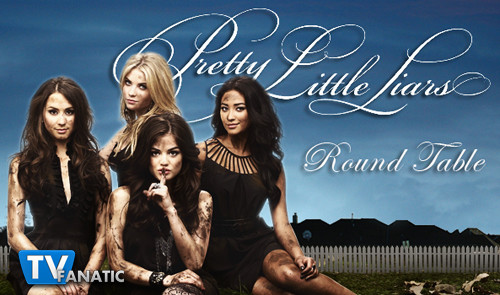 Did Ian really kill himself?
Matt: Of course not. But here's my question: will the police analyze the hand-writing on the note? They obviously should if this is realistic, meaning they will quickly discover Ian was murdered - or perhaps there's even more to it and he was somehow forced to pen that note. Many doors are open here.

Steve: No way. He didn't even die on sight. I say his body was dragged from the bell tower by A and he really did die on the first season finale.

Carissa: Who cares? Ian was an awful character. Now he's gone. Yay! The pawn shop guy knows who it is. What a crooked dude he turned out to be. Hopefully someone will mention to Spencer the missing horseshoe.

Who is the worse mother: Pam, Dina Lohan or Kate Gosselin?Matt

: Pam makes Casey Anthony look like a good mother (too soon?). She based a huge life decision around the guarantee from a school, despite never meeting the person who made the guarantee... and then she did a complete 180 based on two sentences from a girl she just met! Pam is less involved in her child's life than O.J. is in finding the real killer.

Steve: Dina. I'll consider Pam after Emily hits a nightclub the first evening out after a 35-day house arrest.

Carissa: Pam. At least the others feign interest in their children.

Do you wanna see Hanna with Caleb or Lucas?
Matt: Lucas, hands down. These two could be the Seth and Summer for a new generation!

Steve: Who do I wanna see Hanna with? Aria. But male fantasies aside, I'll go with Caleb. There's a really nice guy under that shaggy hair.

Carissa: Is that really a question? Caleb is gorgeous, kind, confident and loves Hanna. There isn't any competition.

What is Mike up to after school?
Matt: He's just practicing basketball on his own elsewhere. Did you see those guys?!? They were awesome! Mike has to sharpen his skills so he can come back strong.

Steve: He's obviously A.

Carissa: We've never gotten to know the kid anyway. Until this bit of mystery, he's been background noise. So does anyone really care?

Matt Richenthal is the Editor in Chief of TV Fanatic. Follow him on Twitter and on Google+.

Tags: Pretty Little Liars, Round Tables