Memphis Beat Season Finale Review: Full of Surprises
by Chandel Charles at .
Dwight and Whitehead uncovered a modern-day Romeo and Juliet story on the season finale of Memphis Beat, while Greenback, Whitehead and Sutton learned of Dwight's new leading lady and attempted to invite her to his surprise birthday shindig.
It all went down on "The Feud."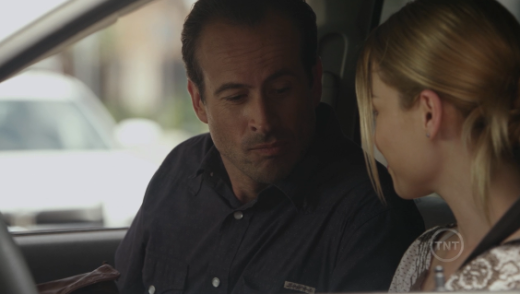 It's been a long time, and maybe the first time during the run of this series, that we've seen Dwight actually maintaining a serious relationship. Interestingly enough, we still don't know much about Caley, only that she was a critical part of last week's episode as a caregiver to the neighbor's pet.

Unfortunately, and perhaps insignificantly, I'm not sold on these two. Caley is quiet and mouse-like. That's not the kind of person I see Dwight being with, if only for the fact I expected someone more outgoing and willing to engage his friends in witty banter to gain their respect.

Clearly, Dwight wants to keep some things separate from the purview of the MPD, but this relationship must be an experimental move on the writers' part.

They waited a long time to drop someone into his life - and only two episodes for Caley's character? Including the finale? It feels like a test-run to me. My advice: Get rid of her.

It's not like I don't enjoy seeing main characters find love interests. But to be honest, I'd like to see Davey with someone before I'd like to see Dwight taken off the market. There's so much plot and character development there. 

I feel like Dwight is predictable and confident with women, and this could get boring quickly. I don't see Caley's presence fulfills any character development needs right now.

Maybe it's just that so much about Caley is yet to be known. Maybe they're both shy at the beginning of a relationship and we'll see them open up? She did seem to fit in pretty well at his birthday shindig.

Speaking of which, loved seeing Dwight, Sutton, Greenback and White on stage together.

Sutton, Greenback and White could have used some backup dancer lessons, but, as always, Dwight was ready to belt out a tune. This week, he sang "Midnight Train to Georgia." It was a welcome sight to have all four men on stage. And they worked about as well together on stage as they do off stage.

No matter what, the four stick together.

As far as the case goes, it wasn't without some surprises, either. The Romeo + Juliet/star-crossed lovers thing was unexpected, as was the fact that Mrs. Murphy and Mr. Harrison had their own similar history. Lucky for them, no one was shot the first time around.

Overall, a pretty solid way to end season two, Memphis Beat. Here's hoping for season three!

C. Charles is a TV Fanatic Staff Writer. Follow her on Twitter.

Tags: Memphis Beat, Reviews
From Around the Web