Well, Pretty Little Liars fans, another week has passed we are no closer to finding A.
HOWEVER, in "Save the Date" we were given even more reason to suspect that Jenna and Garrett are involved in Ian's supposed suicide, and that Jason might also have some pressing secrets to reveal.
The girls finally know about Garrett and Jenna, but Spencer's horrible lying skills (seriously, shouldn't she be better at it since she is one of the titular Pretty Little Liars??) tips the couple off that they know Ian was not Ali's killer. Jenna's chilling, "We need to take care of this," makes me excited for next week's episode.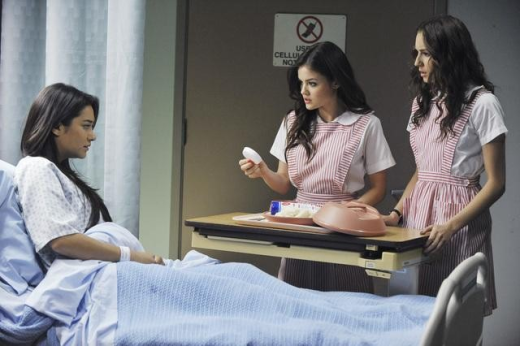 Emily was the main target of A's dangerous games when she ended up in the hospital with dangerous levels of HGH in her bloodstream. A was clever to put the stuff in her pain cream because these blood tests will effectively ruin her chances of swimming in school or getting a scholarship.

Emily began to think that telling her parents the truth might be the best option, but her father's supportive speech kept her from saying a word. Poor Emily! She's suffering so badly from both the stress of the lie and obviously (although not obvious to the girls!) the stress of being under constant surveillance and attack by the mysterious A. She should really just go to Texas.

Emily's trip to the hospital afforded Spencer the opportunity to rifle through the morgue's files. The girls found out that a curved, blunt object caused the trauma to Ali's head, but the dirt in her lungs suggests she was buried alive. But the files were incomplete, and the resurrected corpse in the morgue had to be A running off with page 5 of the report.

This week's episode title related to the tragic end of the possible reconciliation of Hanna's parents. His "Save the Date" arrived at Hanna's home the morning after he spent the night with his ex-wife. AWKWARD! Hanna's mother pressed him to return to his "new" family, leaving Hanna to deal with her daddy issues all over again.

Hanna focused her attention on Caleb, who is being followed by what Hanna assumes is an undercover police officer. However, the stranger's phone call at the end of the hour suggested otherwise. Hmmm....

Some burning questions this week: Is Jason a bad guy? I hope not, for Aria's sake, because he seems like kind of interesting/dangerous boy who could really shake up her ho-hum relationship with Ezra. Also, what was on page 5? A seems to always take away an important piece of the puzzle, so it has to be something really important.

What did you think about tonight's episode?

Tags: Pretty Little Liars, Reviews