2 Broke Girls is really shaping up to have lots of potential. I'm still unhappy with some elements, but I gauge how good a comedy is by one barometer: my laughter. And "And The Break-Up Scene" one made me crack up more often and louder than last week's premiere.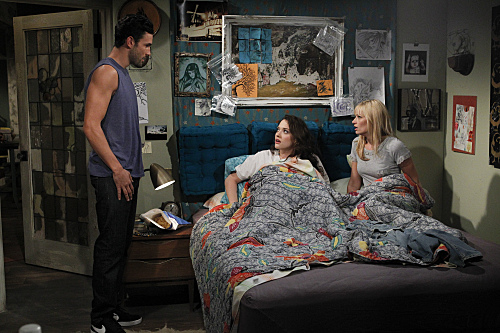 Let's start with the good. That would be Kat Dennings. The bulk of this sitcom is on her shoulders, as she recites the best lines and is given the best characterization. She clearly has no problem carrying the burden, playing Max with what seems to be a certain relish. The lines spout off her so naturally and so smartly that I sometimes forget Dennings isn't Max, but merely playing a character.

Beth Behrs as Caroline isn't terrible by any means, but it's truly Dennings who shines here. I like Caroline well enough when they balance the cliches of a spoiled rich girl with the sharp business woman that lies underneath. I would like her even more if they dropped the spoiled rich girl cliches completely, though, and just let her be a sharp female character. Barring that happening, if she'd just do away with the Valley Girl accent, it would be a dramatic improvement.

The bad: the rest of the supporting characters, minus Chestnut, the horse (he's pretty magnificent). All of the male characters in the peripheral are just plain terrible. They are all racial stereotypes who are so one-dimensional a cardboard cutout could say their lines.

Any good show needs good supporting characters, if not immediately, then for longevity. The girls need to bounce the comedy off other people, not just hipsters that pass through the restaurant to be heaped on by Max.  I hate to put these three gentlemen out of a job, but the show should dump them, and fast. Or quickly bring in some other characters that can eke out something in terms of juicier story lines and less offensive comedy.

My one last gripe is the off-balanced snark between Max and Caroline. Most of Max's zings are at Caroline's expense, and it makes me cringe sometimes. I want to root for the two of them making that cupcake business come true together. I don't want to feel twinges of sympathy for Caroline half the time. It's not a complete problem, but something the creative team should be aware of.

Last week, I wasn't sure if 2 Broke Girls was a series I would be eagerly awaiting every week. It's not a favorite yet on the TV watching rotation, but "And The Break Up Scene" definitely raised my expectations of what's to come. Check out the best quotes from the half hour now!

Tags: Reviews, 2 Broke Girls
Want more 2 Broke Girls?
Sign up for our daily newsletter and receive the latest tv news delivered to your inbox for free!
More From TV Fanatic
On Perception, Daniel and Kate investigate an art heist. Also, Daniel must make a decision about his love life.
Things on Pretty Little Liars looked pretty darn bleak this week as Hanna's friends started to get sick of her but Zack couldn't get enough. Read the review for more insight into the latest installment!
Evan, Paige and Bob confront Russel about his rug theft, while Divya and Jeremiah treat a woman desiring to be a mom. But were those all the surprises the Hamptons had to offer? Read our review of "I Didn't See That Coming" now!
On Chasing Life, Leo makes wishes come true. Elsewhere, Brenna meets her other sister, discovering one more family secret. Read on for more!
---