Geeks rejoice, "Heroes & Villains" was an episode just for us. A show known for stepping a little out of the box of reality, Castle delivered an installment worthy for all comic book lovers.
Heroes & Villains reminded me of last season's, "Close Encounters of the Murderous Kind." A little out there, a little goofy, a whole lot of perfection from Nathan Fillion. Being a "nerd" really is his forte and it is very clear that the writers like to give his fan base what they want.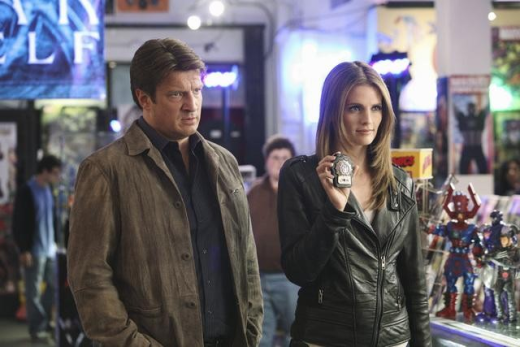 Kate Beckett = Elektra. Who knew that the infamous detective preorders Derrick Storm graphic novels and bought her first comic at age 14? Part of the fun between the two lead characters is their witty banter, and doing this over comics? Pure fun.
In fact, as outlandish as this episode was, it boiled down to just that - pure fun. After some heavy episodes last season and an emotional premiere, it felt good to have a Castle episode that was light hearted and entertaining.
Character Development. Even with the weekly case, the writers still found time to do some character building.
Captain Gates? Maybe she does have a heart... maybe not. Either way, she will be warming up to the Nikki Heat novelist in no time.
Speaking of: anyone else catch those glances and grins between Castle and Beckett at the end?
How dare Officer Hastings come at Beckett so hard in the interrogation room! Bringing up Beckett's mother is touchy and this will end up being a slippery slope for Kate if she can't maintain composure.
Shout Outs. Iron Man. Spiderman. Batman. Pretty much every comic book character that has inspired children to want to be superheroes received a reference. Stan Lee got his name dropped and HBO series Game of Thrones made its network debut by word of mouth. Loved everything about this, really felt like home for the series.  

The Lone Vengeance. A fun case that had twists and turns about who our real superhero was. Have to admit, never expected the vigilante to be one of NY's finest. Even in a case designed for pure entertainment, the writers still managed to catch us off our toes. Kudos.

Family Life. Once again Martha was pretty much useless. On a brighter note, Alexis is getting an arc of her own! Castle came to grips that his little girl will be heading off to Stanford to be with her boyfriend. The conversation between these two about always doing what is right was so necessary. Let's hope that before she leaves for school, she finds a way to get into some real teenager like trouble.

Scene Stealer: The Lone Vengeances... the alley way, the apartment, the interrogation room. All of our impersonators put on a performance that made for some laughs.

Best Quote: No question.

Castle: A writer and his muse solving crime, just like us.

Overall, a fun episode for the series that balances the seriousness with the laughter. Still looking forward to some more bromancing with our male detectives and Castle. What did you think Castle fans? Was "Heroes & Villains" up to Castle standards or just too silly? Sound off now and check out the official promo for next week's installment.


Tags: Castle, Reviews
Want more Castle?
Sign up for our daily newsletter and receive the latest tv news delivered to your inbox for free!
More From TV Fanatic
They can't all be winners, right? Pretty Little Liars Season 5 has had pretty good run of strong installments, but sometimes an...
Evan, Paige and Bob confront Russel about his rug theft, while Divya and Jeremiah treat a woman desiring to be a mom. But were those all the surprises the Hamptons had to offer? Read our review of "I Didn't See That Coming" now!
On Chasing Life, Leo makes wishes come true. Elsewhere, Brenna meets her other sister, discovering one more family secret. Read on for more!
Join us for the One Tree Hill Rewatch of Season 1 Episode 4! Ready to relive the fun drama?
---