Well, well. Look who has a jealous side!
The latest installment of Castle, "Eye of the Beholder," featured our favorite detectives trying to solve a murder... while at odds over guest star Kristin Lehman. There was also a kiss, Beckett opening up to her therapist and Martha trying to set up her son. So let's waste no more time and get to it the rundown!
Serena Kaye... So the anticipated guest stint from Lehman stirred up quite the emotions at the precinct. I don't know about you, but I loved watching Kate face off with another woman. Even though it never really turned into anything, Beckett held her ground and made it clear who she was. That is why she's my girl.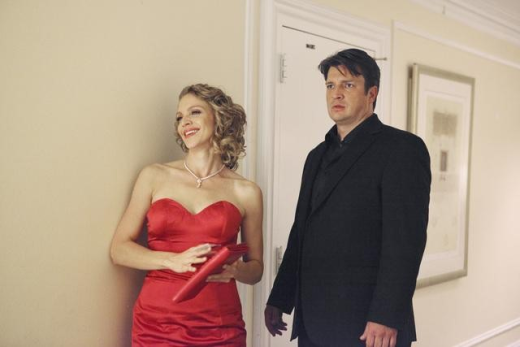 Although I didn't necessarily enjoy the appearance of Lehman, I did appreciate what she brought along with her. Kate admitted to her therapist that Serena's situation with Castle was difficult on her and her envy was not well hidden. The best quote of episode?

"What are you really scared of? That he won't wait for you or that he will?"

Loved it!

Another talented lady stopped by the set as a guest star, none other than Nan Flannigan Jessica Tuck. Even as the villain, Tuck kills it. I would watch her on any show, as as long as she heads back towards Bon Temps for the summer.

Who's Falco?? This may have been one of the most realistic cases we have yet to see on this series. Twists and turns brought out the assistant, the wife, and the infamous Falco working together. I genuinely enjoyed it all. The writers really took the time to build up the layers, instead of twists that seemed irrelevant. Kudos to the staff.

Beckett, Why Do You Do This To Yourself? Kate admitted to her therapist that she is scared and that Castle having other relationships is difficult on her. The writers have been teasing the relationship to us for quite some time and have warned us that this is not something they plan on doing until the middle of next season. Even though I have the patience of a two-year old, I'm willing to wait if we can see the baby steps that took place tonight. Kate said she can't be with anyone yet; she's not ready. But at least she's taking the steps to get there, meaning the journey will be just as sweet.

It's always fun when Beckett isn't super serious. Loved that she casually dropped the fact to Castle that she modeled nude for an art class. These two make the best faces. Period. 

Extra Thought Each week I check out the comments you loyal viewers leave on the reviews. In the past couple episodes, I have found myself reading about Nathan Fillion's weight gain. I couldn't really see it, sometimes he looked bigger but you never know with clothing, lighting, etc. But tonight I noticed it. What is going on here??

Serena said it right, she can't steal something that already belongs to someone else. Castle and Beckett are the end game, we know that.

Overall, a pretty great episode. Since Gates' appearance, she has become less annoying each week. This installment? Not annoying at all. I found myself almost hoping she would have more interactions with the other characters.

TV Fanatics, what did you think? Were you as pissed as Beckett at the appearance of Serena Kaye or is this someone you wouldn't mind seeing again? Not a whole lot of screen time for Ryan and Esposito - what's up with that? Sound off below, checking back for the Castle Round Table and enjoy the promo for next week's supernatural-based episode NOW.

Tags: Castle, Reviews