New Girl Review: White (Lie) Wedding
by Kris Hekmi at .
"Wedding" cemented New Girl as my favorite new comedy of the year.
It took the show three episodes to find its funny groove, but this episode lived up to the promise of the pilot, and I would say even exceeded my expectations. It was laugh out loud funny, with some impressive performances from the cast in general. The tender scenes felt earned this time, and Jess' quirkiness were on my side of tolerable.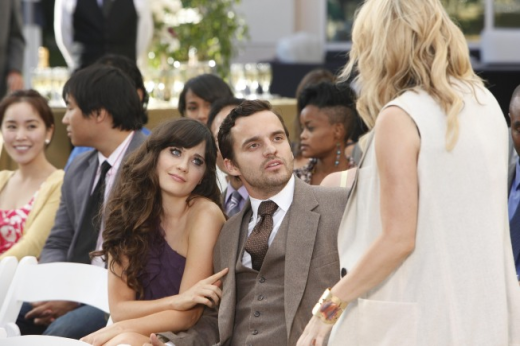 The Good. Lots of good comedy, with pitch-perfect timing, delivery and set up.

I'm kind of a sucker for British accents, especially cockney accents done in a horribly cutesy way like Jess' "Slut Butler!." I kind of had a feeling from that first scene that this was gonna be a good episode. The way she "suppressed the Jess" and turned into a hot girl worthy of being someone's fake girlfriend, yet still mixed with the Jess personality, made the meeting with Caroline particularly enjoyable.

Who among us hasn't had an ex we've wanted to stick it to by showing up at an event with a hot date? I know I have. The way Jess kept getting Caroline's name wrong, and announcing how much they were "doing it" kept it from becoming my complete fantasy, though. Still, Caroline seemed to buy it. Nick's glee that she was jealous set up his descent into a drunken mess later, once she revealed that she had a boyfriend.

Schmidt was too busy hooking up with an old college crush that never gave him the time of day when he was (revelation!) "Fat Schmidt" to be Nick's proper wingman. Winston was too busy protecting his ushering turf from a creepy little boy to be Nick's wingman. It all came down to Jess who knew none of the history, including how douchey his ex could be, and how naive Nick was in regards to her.

She turned her back for one moment to take off the bicycle spandex from underneath her dress in the bathroom. She even did Schmidt a favor by talking him up to his college crush in the process, and all went to hell. Seriously, it was like the spandex was holding everything up, not just Jess' butt.

Meanwhile, Nick fell for Caroline's wiles again, got rejected and went on a bender. Schmidt was horrified to find out that Jess' version of talking him up included brandishing a knife. I mean, what's a girl supposed to use to cut a constricting spandex off? And Winston... well, I'm still a bit confused about Winston's role here, although his dance off was a good moment.

Thankfully it all ended well. After a pep talk from Jess in the photo booth, Nick finally got some closure with Caroline. 

The quad came symbolically together as a team in one final, epic rendition of a slow-mo chicken dance, done with a peck in favor of a clap. To the tune of Phil Collin's "Groovy Kind of Love," no less.

The Bad. Do I really have to say something here? Beause I don't have much. The only weak point I can see is still Winston, although perhaps they're just trying to find their footing with him, as they did with the show in general. It took three tries for New Girl, I'll give Winston a few more eps too.

Another weak point was Natasha Lyon, who I usually love. It's good to see her on screen again but I felt she was miscast as the wedding backup hookup that Schmidt is inexplicably drawn to. There didn't seem to be a lot of chemistry there. Thankfully, the episode was strong enough that this wasn't much of a problem.

As a closure, I wanted to pose the question: are we going to see Schmidt in a fat suit in the future? Don't tell me no one else is interested to see this. I am raising my hand right now. I do. I want to see this.

Simply put, it was a great episode. Relive some of the funnier moments by visiting the quotes page.

Tags: Reviews, New Girl
From Around the Web