Did anyone else know that Joe and Bonnie had a son named Kevin?  I sure didn't. In fact, I couldn't remember him during "Thanksgiving" at all and had to go back and check to see if he wasn't just a jump-the-shark character that Family Guy made up. Turns out, he's been mentioned and seen before, although presumed dead for at least three seasons.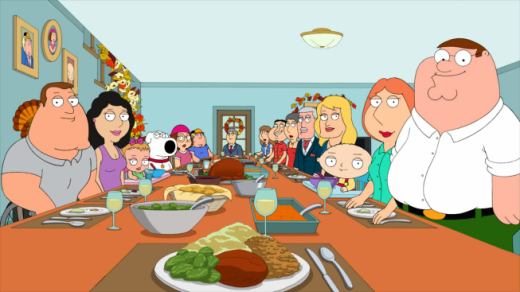 The Griffin's dysfunctional Thanksgiving dinner brought all of Quahog together, reminding us that most of our main characters are tied together closer than before. Lois' sister Carol is now the wife of Mayor West, while Brian had a fling with Ida, Quagmire's transsexual father.

Having so many of the characters together in a majority of the scenes was unique for Family Guy, but it would have been much funnier to see more interaction between the characters than listen to Kevin's war story.

That said, I must give the sitcom props for rehashing old inside jokes, such as Meg's obsession with Kevin - which was quickly shot down - and Brian's affair with Ida. It was brilliant to see Ida again so unexpectedly after her big debut as Quagmire's father and I wish she had a bigger role. 

Although I wasn't overwhelmingly excited to see Kevin again (considering I had forgotten all about him), it was refreshing to have the entire Family Guy family under one Griffin roof. The ending with the other Kevin Swanson was kind of awesome; I would love to see that actually unfold.

What did you think about Family Guy Thanksgiving? Was it as dysfunctional as you expected or too tame for your tastes?  Browse this week's Family Guy quotes for more politically incorrect hilarity! 

Tags: Family Guy, Reviews
Want more Family Guy?
Sign up for our daily newsletter and receive the latest tv news delivered to your inbox for free!
More From TV Fanatic
Usually it's insults that get tossed around on The Real Housewives of New York City Season 6 Episode 20 but Aviva threw out a leg. Her own! On the dinner table. We attempt to make sense of the nonsense in our +/- review.
On Perception, Daniel and Kate try to track down a missing baby. Kate also must deal with Donnie's talks about their own future children.
Aria finds some interesting clues as she begins volunteering at Radley while Hanna continues to struggle with Alison's return.
With Maura away, Jane must rely on Susie's help to solve the perfect murder on Rizzoli & Isles.
---