No show knows to to celebrate Slapsgiving like How I Met Your Mother. Sure, there may have been no slaps on this year's Thanksgiving episode, but there was still plenty for our round table to discuss.
So before you sit down for Turkey Day, be sure and join us as we discuss bro parenting, ghost busting, and baby daddies from "The Rebound Girl."
Favorite HIMYM quote of the night?
Chris: Usually my favorite quote is the one I find the funniest, but this week my favorite line came after Ted told Barney they needed to wait for the real thing no matter  how hard it gets. Barney admitted to Ted, "It's gets pretty tough," and let down his guard so his buddy could see his pain. 
Leigh: Well it was simple but effective. Robin's "I'm pregnant."
Eric: Pretty much every word out of Ted and Barney's mouth during any bro-parents conversation.  But to pick one quote?  It's gotta be the Diff'rent Strokes reference.  Those really were some different times.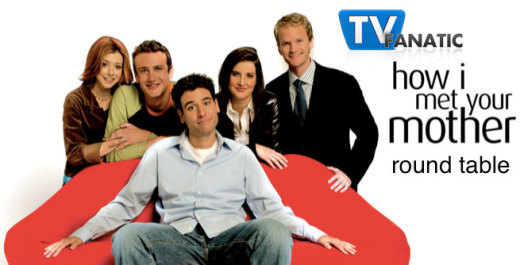 Was it a sign?  Should Marshall have become a ghost buster?

Chris: Supernatural elimination just isn't the growth industry it once was. So no I don't think Marshall should quit his day job just yet.  Signs are everywhere but are open to just as many different interpretations.

Leigh: I totally believe in signs, but I don't think that Marshall would've been able to handle it if there was "somethin strange in the neighborhood."

Eric: Obviously. Sign or not, when you have a fire station, ghost buster mobile and fourth ghost buster, you don't hesitate.  You just go and hire yourself a nerdy secretary and put your nerdiest friend (Ted) to work on building you some proton packs.  If you need an investor, count me in Marshall.

Bro-parents activate!  Better girl name: Hurricane or Sadie?

Chris: Sadie for sure. There are too many eye of the storm, rock me like a hurricane joke possibilities  that guys could tease her with when she is older. As a parent when you are considering a baby name you spend hours if not days trying to think of any potential jokes or nicknames kids might come up with. 

Leigh: Is this a real question? I mean clearly Hurricane is the better name...if you want to see your daughter working the pole when she grows up?

Eric: You two are both totally fired as my bro-parents.  Clearly Hurricane is way more legendary.  And, Leigh, how could she possibly grow up to be a stripper?  She'll have the opposite of daddy issues with bro-parents!

Where was Kevin this week? 

Chris: He probably headed home for the holidays. Maybe something will happen there related to the secret people seem to think he is hiding. 

Leigh: Kevin was visiting his family, arguing with the brother whom his mother favors.

Eric: Eating a sandwich with Harold just before Thanksgiving.

Speaking of Kevin, who's the daddy!?

Chris: I have no idea, I really can't believe they dropped this bomb on us. I feel like it is going to cast a pall over Marshall and Lily's birth. I am utterly clueless

Leigh: I would love it if one of my shows didn't pose the question "who's the daddy?" I have no idea.

Eric: Yeah, I'd like to think How I Met Your Mother is a little above the "who's your daddy" game.  But don't worry, they'll put the most fun spin on it since It's Always Sunny in Philadelphia Halloween episode.

Eric Hochberger is the programmer of TV Fanatic, so please forgive his mediocre writing. His programming is far better. Follow him on Twitter and/or email him. Just don't request threaded comments. They're coming.

Tags: How I Met Your Mother, Round Tables