American Horror Story Review: Harmony for the Harmons
by Matt Richenthal at .
"Afterbirth" focused on the afterlife this week, as American Horror Story wrapped up an enjoyable, scary, bizarre first season with a relatively calm finale.
It was mostly an epilogue for the Harmons, really, as Ben was killed early on in the 90-minute episode, leaving him and his ghostly loved ones to finally move past their bitterness and resentment, coming together as a family unit that included a new godmother and an adorable - albeit deceased - baby boy.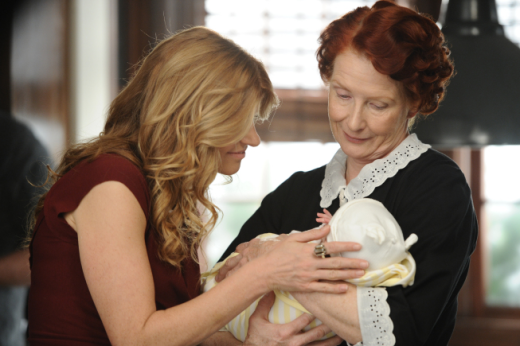 I was actually pretty bored throughout. A great deal of time was spent on the spirits frightening away the new home owners, which was sort of entertaining - it was nice to see Vivien and Ben actually laughing together, wasn't it? Too bad they couldn't find that kind of happiness in life... - but also rather pointless.

The haunting by these "good" ghosts proved how they'll now band together to prevent any more children from being born in the house, which is a noble goal, but not one I needed to be spelled out for me in such a manner. It should have been a DVD extra, some kind of bonus footage. Or maybe season two could have started with the arrival of a new family and this strategy to scare them away.

Because there wasn't a lot of action here, at least not related to the characters we've followed all season long. Moira is settled in comfortably with the Harmons; Vivien, Ben, Violet and Unnamed Child are in a contented place; Tate is, well, still all Tate-like. And then there's Constance, whose truly horrifying grandson may actually be the anti-Christ, as he was so forecasted a few weeks ago.

The final image of the season was undoubtedly a haunting one, making it likely that at least Jessica Lange will return for season two. (The status of Dylan McDermott and Connie Britton are not known; the latter says she was only contracted for one season when she signed on.)

I'm not one who believes a season finale has to feature a number of twists or turns, which is why I was perfectly happy with this episode. It brought everyone together, teased season two and tied up the key relationships nicely. I just don't have a lot to say about it. It definitely didn't need to be an hour-and-a-half. Once Ben died, the main source of tension in the house flat-lined along with him. There wasn't even a lot of suspense over the baby: Vivien found him with Nora and didn't have a lot of trouble re-claiming him as her own.

So a series that came in with a major bang - and sustained that bang for a majority of its season - ended on a slight whimper. And the bloody murder of a nanny by a three-year old, of course.

What did everyone else think? Grade season one of American Horror Story now:

Matt Richenthal is the Editor in Chief of TV Fanatic. Follow him on Twitter and on Google+.

Tags: American Horror Story, Reviews
From Around the Web