Robin took the narrating spot this week as How I Met Your Mother delivered one of its most powerful episodes with "Symphony of Illumination."  
After extensively reviewing the episode, our site's biggest HIMYM your mother fans give the episode a second go around with our weekly round table.  Come join.
Favorite HIMYM quote of the night?
Chris: "So you're pregnant? Huh, looks like nobody told your boobs." The whole bathroom confessional was amazing and Robin has a mean right cross.
Leigh: It wasn't so much of a quote as it was Barney's whole reaction when Ted and Lily were trying to figure out what was wrong with Robin.
Eric: Mine is also less of a direct quote and more the entire reveal of Robin saying the kids never existed.  I still get chills and sad just thinking about it.  Well done, HIMYM.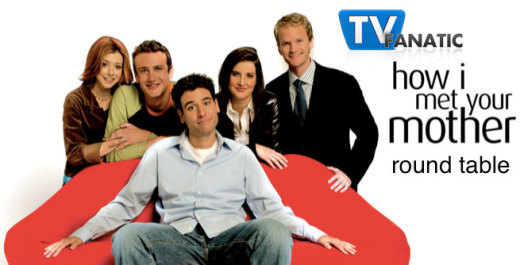 Did you buy the fact that Marshall couldn't figure out a way off the roof?

Chris: Marshall is a clean shaven Viking, he could have definitely gotten off that roof, but it did make me think back to when he was going to jump to the roof across from theirs and how long it took him to muster the courage to do so. Without any prodding I guess it wasn't too hard to believe he would stay up there.

Leigh: Marshall is this big Sasquatch of an individual. He could've hurled himself off of that roof and done some damage

Eric: Wow, great reference there Chris.  Besides "The Leap," you gotta consider the icy terrain below.  Marshall has a family to think about here, people, and we had hilarious Scott partying to think about.  Did you see that small sandwich Scott was eating?

Who pulled at your heart strings more this week, an excited Barney gushing at the prospects of being a father or Ted and his unrelenting efforts to be there for Robin?

Leigh: Ted slayed this episode. I was already emotional when he was telling Robin she couldn't fire him, but I lost it when he did the apartment up in lights at the end.

Chris: I agree with Leigh, some of Ted's finest moments were this week hands down. 

Eric: I'm also on Team Ted here.  Which is rare since he's probably my least favorite character of the group.  But from the moment he appear on screen with the 'stache, he dominated the episode.  The man should give up narrating more often.

How will Robin's news affect her relationship with Kevin? Will she ever come clean about her affair with Barney? 

Chris: I think the truth will come out at some point but Kevin isn't going anywhere just yet. 

Leigh: I'm not really sure on either front. I think they will hit a rough patch and something will be revealed.

Eric: Well since we haven't seen the guy in two weeks, i'm thinking things aren't looking good for the doctor.

Are the prospects of Barney and Robin all but done in your mind?

Chris: Call me Journey because I won't stop believin' in Brotp.

Leigh: No, not forever. Right now maybe.

Eric: Man this episode was cruel to Swarkles fans.  Calling him the father.  Leading me to believe they were definitely the couple getting married.  Taking it all away..

Eric Hochberger is the programmer of TV Fanatic, so please forgive his mediocre writing. His programming is far better. Follow him on Twitter and/or email him. Just don't request threaded comments. They're coming.

Tags: How I Met Your Mother, Round Tables