The Office has knocked Christmas episodes out of the park in the past, so a high bar was set for "Christmas Wishes.  It didn't live up to the original "Christmas Party" or last season's "Classy Christmas," but it was certainly one of the funnier outings of season eight.
There were a lot of things that make up a good Office episode at play here. Jim and Dwight were in a pranking zone, there was a whole lot of Erin Hannon, Andy Bernard wasn't ridiculously annoying, and of course, there was an amazing montage/air band rock out set to TSO's "Carol of the Bells."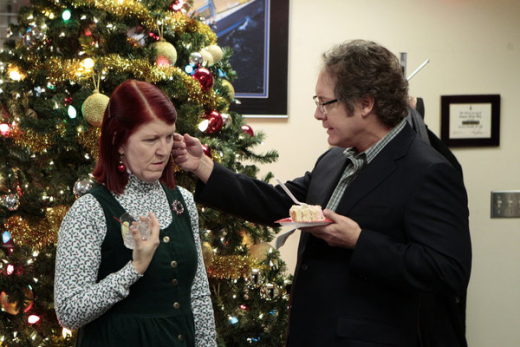 Dunder Mifflin has done holiday music well in the past - Angela's "Little Drummer Boy" comes to mind - but nothing like this. Between Kevin and Jim receiving a cookie jar and a vasectomy pamphlet as gifts, Erin pounding shots with Phyllis, and Creed, Nate and Gabe joining Dwight on air guitar, air keyboard, and air bass, respectively, it hit on all levels. Great montage.
Not only were Jim and Dwight back to doing what they do best, pranking, but it wasn't the same old song and dance. No, no, Jim and Dwight were pranking themselves, which made it that much funnier. Whether it was Jim reading his credit card info aloud - leading to Dwight buying $200 flowers for Pam - Dwight putting a porcupine into his own drawer - leading to him calling the animal by name - or Jim drawing devil horns and a beard on a picture of CeCe but then backing down so Dwight wouldn't get fired... these two were on fire.
Then there was Ellie Kemper yet again lighting up the screen, this time by being jealous and drunk. One of the characteristics that makes Erin such a funny character is how serious she takes things, and how important she thinks everything is. That trait was definitely exemplified when she was amazed that Jessica was an assistant cross country coach at Bryn Mawr.
She also gave us a fantastic Stanley impression and that entire awkward moment when she forced Andy and Jess to kiss in front of her.
Sure, there were a few misses. They still don't hit nearly as often as they used to on the emotional moments. Andy and Erin are not Jim and Pam, nor are they Michael and Holly. It just isn't the same, and when Andy drove off in the car after checking up on Erin and Robert, I really couldn't have cared less.  
Then again, "Christmas Wishes" also gave us Creed trying to cozy up with Andy's Gam Gam, Angela comparing porcupines to dogs because neither have souls, and Kevin consoling Erin after her blow up with Andy only to ask about the oatmeal situation, so there was much more good than bad as The Office heads into the winter break.
We'll leave you with some of our favorite quotes from the evening, and don't forget to hit up our The Office quotes page for all the best one-liners.
What did all you TV Fanatics think of the episode?
Dwight: I am always acting in self-defense...occasionally preemptive self-defense. | permalink
Nate: You had me at clookies. I can't wait to find out what they are. | permalink
Darryl: I meant dressed up compared to normal. You usually dress like a ghostbuster. | permalink
Erin: I'm gonna go do another reverse spit. That's how the cool kids say, get a drink. | permalink
Dan Forcella is a TV Fanatic Staff Writer. Follow him on Twitter.

Tags: The Office, Reviews
Want more The Office?
Sign up for our daily newsletter and receive the latest tv news delivered to your inbox for free!
More From TV Fanatic
Who can be trusted? On tonight's Covert Affairs, it's clear that it's important to trust others, but also a huge gamble.
Jane and Maura get drawn into the world of rare books and coded confessions when a book seller hiding a secret is murdered on Rizzoli & Isles.
On Perception, Daniel and Kate investigate an art heist. Also, Daniel must make a decision about his love life.
Things on Pretty Little Liars looked pretty darn bleak this week as Hanna's friends started to get sick of her but Zack couldn't get enough. Read the review for more insight into the latest installment!
---