Tracy was still acting out for attention, Jenna was still doing whatever it takes to get more rich and famous and Kenneth was still putting all of his beliefs into something bigger than himself - but the return of 30 Rock felt different than the status quo.
If I hadn't chuckled once during the half hour, "Dance Like Nobody's Watching" still would have been a great episode of television. That's not something you normally say about 30 Rock. It's there to be silly and make the viewer laugh out loud, not to simply be a interesting story about characters we enjoy.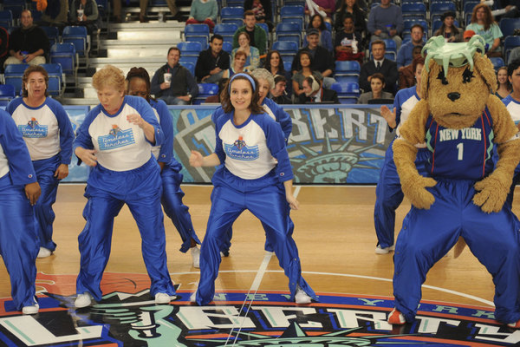 That's what this sixth season premiere pulled off, though. It was pleasant to sit through, and interesting to watch what the characters - especially Liz - were up to.
In the past, Liz's story might have ended with her actually being a crack whore, or taking some weird drug to help her deal with Tracy. Instead, Tracy and Jack figured out that she was just enjoying her life, dancing like a weird dance team in Madison Square Garden.
30 Rock is still out for laughs, though, not just emotional payoffs, and it forced plenty on the audience thanks in large part to Jenna's turn as Simon Cowell on their amalgam of singing competition shows, America's Kidz Got Singing.
Sure, they are extremely behind the curve on making fun of the Idol-style judging, but that didn't make it any less funny when Jenna was telling little boys and girls that they should jump back up their mothers or roll down a waterfall in a barrel.
I also loved Johnny McEnroe playing the role of Paula, Kenneth telling everyone they weren't going to go to heaven after the rapture and Tracy making up new names for cocaine.
As always, here are some of our favorite lines of the night, and don't forget to check the 30 Rock Quotes page to relive all the laughs.
Kenneth: I get to go to heaven and receive my reward: 72 virgin, margaritas. Hold the salt. | permalink
Kenneth: Is the sky blue? Well, until tomorrow, when it will be on fire. | permalink
Jack: This thing's a real cash cow, unlike Cash Cow, the NBC spinoff of Cash Cab. You try riding a cow through midtown Manhattan, Lemon. The animal will panic. | permalink
Jenna: How do nice people dress?
Tracy: Socks on their hands, no belt, roller skates. | permalink
Jenna: Emma that was pretty good. You were trying to get me to commit suicide, right? | permalink
I enjoyed the return of

30 Rock

, but what about all of you? What was the funniest scene from "Dance Like Nobody's Watching?" How about the single best line? Did you simply want to slap Jenna for being so mean to those kids? Weigh in below!

Dan Forcella is a TV Fanatic Staff Writer. Follow him on Twitter.

Tags: 30 Rock, Reviews