Booth and Brennan found themselves hunting for more than just the perfect home on Bones this week. When severed remains appeared at the American Heritage Museum, the Jeffersonian team plunged in to the world of informants and clues embedded in the skull and vertebrae of the victim to find the killer.
Indeed, "The Crack in the Code" was quite an eventful winter finale.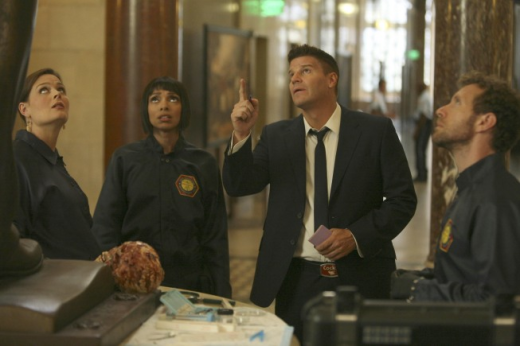 I was pretty impressed with the innovation and imagination of the writers room on this one. Never would I have conjured up the idea of rearranging spinal vertebrae to fashion a code of any kind. Yet it was no surprise that Hodgins was the one to crack it, with the help of his lovely wife Angela. This was every government conspiracy buff's dream.

Bones has had slew of infamous serial killers and snipers ranging from The Gravedigger to Broadsky. This one, however, takes the concept to a whole new level.

I will forever be stumped as to how an effective fractal pattern containing malware could be etched into the distal end of a bone. Especially not one that would send Angela's entire electronics collection up in flames. It's epic in a very sick kind of way.

It seems Christopher Pollant will not soon be forgotten, as our team was unable to directly connect him to the string of bodies left for them to find and identify. I only have one question: Who's next?

On a much lighter note, Booth and Brennan were not only chasing potential serial killers, but also searching for the perfect home. With their little girl six weeks from being born, it was down to the wire for those two to find a place to live.

One thing that struck me about their choice was that it had to be in the most unlivable condition known to mankind. Worse still, Booth and his help will have minimal time to make it into a livable and family-friendly dwelling.

Perhaps the most endearing feature of this home is its symbolic quality. Booth and Brennan's likening the house to a symbol of their conquering of the bad guys was a fitting comparison. If there's anyone who deserves to live in a rehabilitated home that signals their strength, it's Booth, Brennan and their little girl.

It's a shame this show is going on hiatus again! Guess we will have to wait a little bit longer to see the birth, and, more interestingly, how this whole house thing works out!

What do you think of the new villain? What about the new house? Sound off below!

C. Charles is a TV Fanatic Staff Writer. Follow her on Twitter.

Tags: Bones, Reviews
Want more Bones?
Sign up for our daily newsletter and receive the latest tv news delivered to your inbox for free!
More From TV Fanatic
Join us for the One Tree Hill Rewatch of Season 1 Episode 4! Ready to relive the fun drama?
Power struggles ensue all around Chester's Mill on Under the Dome. Lives will be put on the line.
Scott decides to get tough on Teen Wolf after rescuing his Beta by declaring he won't sit back and watch more deaths. Find out what else went down in the review!
Heather and Tamra consider making peace with Shannon on The Real Housewives of Orange County. See what went down in our TV Fanatic review!
---