Pretty Little Liars Review: Muddy Waters
by Teresa Lopez at .
After two solid episodes, Pretty Little Liars faltered a little with "Let the Water Hold Me Down." For two weeks we've seen plenty of action, drama and suspense, as well as fewer pointless plot diversions and red herrings. Despite promos that imply a lot of huge revelations here, instead we got an episode that uselessly paddles around in the muddy lake water.
It was filler through and through, which was a little disappointing. Hardly any new information was revealed, and most of the characters were acting pretty mopey. I was really hoping things would get clearer by now, but I guess it is a little too early in the season to give away all the secrets. Although, at least one would be nice!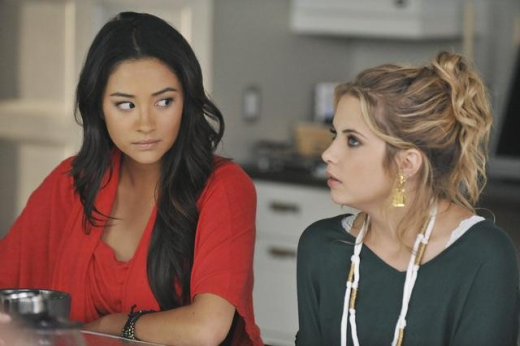 The episode focused mainly on Hanna and the depths of her suffering at the hands of A (that's a tad melodramatic, I know, but so is Hanna). As I said last week, Hanna kind of overreacted to the whole row boat situation and the entire thing really soured her on Lucas. Despite his loyalty and generosity, Hanna quickly turned on him and suspected he will try to hurt her, which I think is a little unfair.

However, nearly drowning and being harassed by A (especially with a creepy model boat in the bathroom sink) is enough to make anyone a little cranky, so I can forgive her for being a little paranoid.

Hanna's frightened and combative attitude this episode caused some big problems with both her best friend and her boyfriend. While I can understand her preoccupation with Lucas and attempts to keep Caleb out of danger, I thought it was just plain rude (and selfish!) that she would work to fix her issues with Caleb, but wouldn't bother calling Mona. Obviously, she does have a lot on her mind, like losing her precious homecoming queen photo and being stalked by psychopath called A.

But Mona even tried to contact her after Noel dumped her, and Hanna still didn't call her friend back. Honestly, I thought it would have made Hanna seem a little less self-involved if she'd at least texted.

The big reveal - Lucas is a very bad gambler - was a surprising but not altogether satisfying resolution to the lake house incident. I feel bad for Lucas, and I wonder what Hanna's attitude will be towards him now. Her only response was, "You're not who I thought you were," which could be either a positive or negative comment. Either Lucas isn't a good friend, or Lucas isn't A's minion.

How do you think she meant it? Is Lucas hiding anything else?

The only other minor information revealed was that Garret signed Jenna out of the rehab center the night Allison went missing. We kind of already knew Jenna and Garrett had something to do with Allison's death after their little chat at the police station last fall, but it's another necessary link in the chain of evidence.

I was more intrigued by the different perspective we got on Jenna as a person. Her former rehab friend thought very highly of Jenna, calling her determined and helpful. She was the reason he stopped wallowing in pity. Just like in the Halloween episode, I find it easier to see Jenna as a more sympathetic character.

Do you think Jenna has any redeeming qualities or is she just pure evil?

In romantic news, Emily and Maya are dating again. They are adorable together, although Emily should be careful of setting the standards of honesty too high when she's keeping some pretty big secrets herself.

Aria's failed attempt to see Ezra at an Arthur Miller play was sad to see, and it really made me think the show might be splitting up Ezria for much longer than I thought.

Anyone a fan of newcomer Holden?

Tags: Pretty Little Liars, Reviews
From Around the Web