Private Practice Review: When Love's Not Enough
by Christina Tran at .
Private Practice returned from the holiday hiatus with a solid episode. "Are You My Mother?" was an excellent way to kick off the second half of an already stellar season, focusing on the theme of when love is just not enough.
I was a little confused at first, though. I expected to immediately see Addison with her pregnancy results. I was a bit surprised and felt that the entire installment was in fast forward mode, as Addison and Sam prepared her home for the social worker.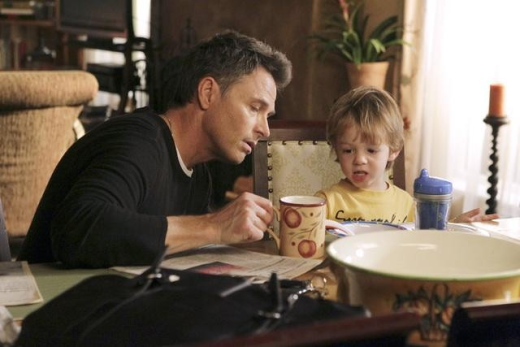 It was obvious that some time had passed, but I feel like the missing scene was needed. By the way, how did Addie meet with a social worker and even the birthmother that quickly? I guess that's TV for you.

After much acknowledgment from both Sam and Addie in regard to their conflicted relationship, the two ultimately decided to break up. Are you disappointed or glad? I, for one, am actually the latter, relieved they both finally realized they just don't want the same things.

On another note, I always thought I'd be crushed if Addison didn't get to have her own baby. However, I'll admit that I'm definitely intrigued to see her explore different options for motherhood. At the end of the day, so as long as she gets to finally have a child, I'll be more than thrilled.

The best parts of this episode included three great scenes. First, I really liked that Jake was the one to comfort Addison as she broke down after being told she wasn't chosen by the birthmother. Second, as always, I appreciated the Charlotte and Cooper scenes. I love that she's so supportive of him and how well they work together as a team.

Lastly, how great was the shooting range scene with Sheldon and Charlotte?! Private Practice needs more moments outside of the hospital and office. Also, it was tough but understandable to see Sheldon deal with his feelings for Amelia. Thankfully, Charlotte was there for her. These two are great when they're together.

By the way, high-five to Cooper for actually stepping up and being the father he needed to be for Mason. I didn't think he had it in him at first. Ironically, Mason seems to actually be helping his dad mature.

I can't say I cared too much for the medical case involving the "polamorous triad." I thought it was random and their demise was predictable. That's all I'm going to say about that.

Elsewhere: I was glad that Violet told Pete he should be the one to leave. I'm not one to be rooting for Violet, but she was right. After all, it was her house in the first place.

I honestly am appreciating the way Pete and Violet's storyline is going. Separation seems like the right option for them now, though Lucas does need some stability. It's great that they are establishing rules, but let's hope that they will both sincerely keep Lucas as their number one priority.

There was a time when I was certain the Violet Annoyance Scale (VAS) rating would be soaring off the charts. With tonight's episode, I'm only rating it a 2 on the VAS, though. Addison and Violet have grown close quickly, and it just isn't believable to me. Also, I was slightly disappointed she didn't let Pete see Lucas.

Again, I understand that they have to have some boundaries, but it was heartbreaking to see Pete confess he didn't want to lose Lucas. Furthermore, she did bend the rules for herself to see Lucas when it wasn't her turn just earlier that morning.

Were you pleased with this installment? What did you like or dislike? Don't forget to leave your VAS rating.

Tags: Private Practice, Reviews
From Around the Web