How I Met Your Mother was back with a new episode this week, as the gang was all a buzz at Lily and Marshall's house warming party.
Well before the first guest arrived, Lily and Marshall sat her dad down to implore him not to wreck all the hard work she put into preparing their big event. Mickey's foray into apiculture was a real bee in Lily's bonnet, but also showed a funny parallel between her father and Marshall.
Mickey's bee puns were rather reminiscent of Marshall's fish name routine from "Old King Clancy." What seemed to be a similarity in senses of humor was yet another example of how women tend to marry men like their fathers and vice versa, as we saw how alike Lily and Marshall's mother were last season around the time Marvin Sr. passed away.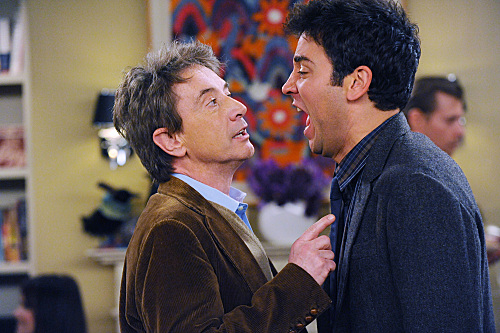 For a half-hour episode, primarily consisting of a series of interlinked events that unfolded within a five-minute window of time, "The Burning Beekeeper" was filled with the brand of scenes and dialogue fans of the show have coveted all season long. This is not to say we have been denied such up until now, but tonight's installment was superbly scripted and will no doubt go down as one of the most memorable of the season - if not the entire series. 

I'm sure there were those naysayers who would have admonished Lily for even thinking about throwing such a big party while fully pregnant, while others may have been critical of Marshall for being so self-involved with his work issues that he did little to take some pressure off his wife's back, but don't forget these are the Eriksens we're talking about here.

Lily was very excited about the cheese she purchased on the Internet and Marshall did his part to spread the word about the inbound hors d'oeuvres, such as when he told Ted "don't slept on the gouda." They always have each other's back. 

Barney, despite a belly full of vegan spring rolls, dug deep into his bag of aliases and pulled out Secret Agent Gary Powers, famed CIA U-2 spy plane pilot. He may have been out of his flight gear, but was nonetheless suited up and slaying it with Hung's Rebecca Creskoff, the cat-crazy, cheese knife-wielding divorcee. 

It's not often you see Barney upstaged, but when it does occur, more than not it's Robin who seems to take the spotlight. Tonight was arguably one of those episodes as she shared memorable scenes with Marshall, Barney and Ted. She brought the "Ha" with outbursts like the one about the Thin Mint-less Girl Scout, but also delivered the "Aw" moment when she and Ted put an end to their dispute and complimented each other's unique personality traits. 

Now don't get me wrong, nobody puts Barney in the corner, no matter how great a performance they might deliver. Case in point: this week's funniest line came from none other than "Jack Package" telling Robin about the gender of men's junk. I must have rewound the part where he said "come on Robin, it's my penis we're talkin' about" 20 times, each time laughing harder than the last. I highly recommend trying it at home if you have the episode recorded. 

Some of my other favorite moments included, the Sun Tzu misquotes, Robin's anger over the absence of spicy mustard for the pigs in a blanket and Mickey warning her about standing in his snack track. Also amazing was the reason behind Ted and Robin's fight. Robin yelling at the old woman while she fought for the last Zabar's kugel reminded me of when Jerry Seinfeld stole the Schnitzer's marble rye from the elderly woman.  

I'll cut myself off here as I am very eager to hear if you all enjoyed the episode as much as I did. Be sure to check out the memorable quotes list, too, as there were plenty to commit to memory. 

Tags: How I Met Your Mother, Reviews