There was a lot of potential for Vince to grow on Mike & Molly this week, as he figured out how to handle Joyce's meeting with an ex-boyfriend.
In the end, however, it was Joyce who showed the most maturity when she asked Vince to move in with her. Were you as surprised as Molly and Victoria at Joyce's decision? I sure was!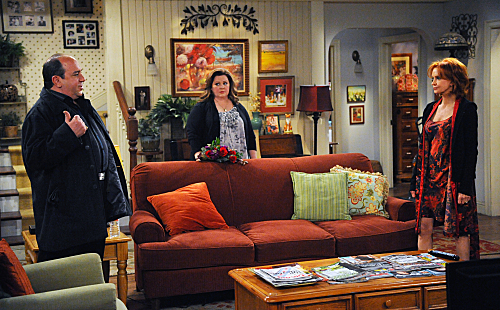 Vince had a great chance to develop as a character here, and for awhile it seemed like he might actually evolve a bit, but in the end he remained the same. When he brought flowers over for Joyce, he seemed determined not to ask about her time with her ex, and I was almost fooled. Quickly, however, it was revealed that he had paid a neighbor to spy on Joyce. Instead of taking the opportunity to progress Vince's character, "Joyce's Choices" put the burden of growth on Joyce, who is already a more balanced character than Vince. 

Luckily, Mike picked up the slack on the maturity front. His fear of flying was crippling his honeymoon plans, so he practiced what he preached to Vince: open discussion. Of course, this was after several false starts, one of which I included on the quotes page. Eventually, Mike manned up and agreed to spend their honeymoon in Paris.

What I really enjoyed about this episode was the dynamic between Molly and Victoria. I've always had a sweet spot for Victoria because I think she adds a nice dimension to the show. In this case, McCarthy and Mixon played off each other particularly well. Mixon always has some great lines, and even though McCarthy's dialogue is not nearly as absurd, her timing really carries it. 

That being said, I initially thought that "Joyce's Choices" was utilizing a lot of cliched joke material, such as being afraid of clowns or the many bathroom humor quips, but Mike & Molly managed to save most of them with unique punch lines. I do think that the show could stretch itself a little further and explore outside the traditional sitcom humor boundaries more often. For example, definite originality points should be awarded for the "kimono boner" bit. 

Adding Vince to the already packed house will only make things more interesting in the weeks to come. Do you think Joyce should have told Vince about her indiscretion or was she right to keep it quiet? How long can she keep it a secret? It's bound to come out at the wrong place and the wrong time - perhaps at the wedding?  

Tags: Reviews, Mike & Molly
Want more Mike & Molly?
Sign up for our daily newsletter and receive the latest tv news delivered to your inbox for free!
More From TV Fanatic
Join us for the One Tree Hill Rewatch of Season 1 Episode 4! Ready to relive the fun drama?
Power struggles ensue all around Chester's Mill on Under the Dome. Lives will be put on the line.
Scott decides to get tough on Teen Wolf after rescuing his Beta by declaring he won't sit back and watch more deaths. Find out what else went down in the review!
Heather and Tamra consider making peace with Shannon on The Real Housewives of Orange County. See what went down in our TV Fanatic review!
---