Adam nearly died, but then got the girl. Melissa nearly overdosed, but then got into a pillow fight. Faye nearly kicked Jake out of bed, but then threw him down on top of it again.
Indeed, it was a busy Valentine's Day on The Secret Circle last week and now Matt Richenthal, Carissa Pavlica and Steve Marsi are here to recount the episode in our weekly Round Table discussion...
-------------------------------------------
What was your favorite scene from the episode?
Matt: I'm not dirty for saying the topless one betwen Faye and Jake, right? I mean, the actors themselves aren't in high school! It was rather hot and also led to a funny scene between Melissa and Faye at school. What's wrong with you? There's a sparkle to your bitchiness.
Carissa: The sleepover before Cassie arrived. Diana, Melissa and Faye were having so much fun and it was nice to see what their friendship must have been like before her highness arrived.
Steve: Every scene with Diana high on Devil's Spirit, that's easy. She was hilarious, getting a couple makeout sessions on and then capping it with her confidence Ouija Board guess: You're the most sacred witch in all the land!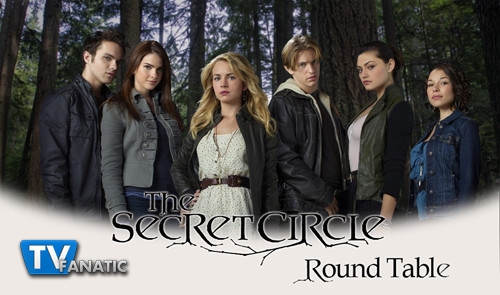 Cassie and Adam's kiss: Hooray or no way?
Matt: Hooray. Not so much because I care about these two as a couple. But because at least it's progress and they're doing more than just talking about feelings or fate.

Carissa: No way. I still say he's too good for her. I want her to embrace dark magic and then for a new witch to come to town and be the real leader of their circle. I know the series is based on books, but I can still wish. Maybe she has a twin, full of light!

Steve: No way. Adam didn't deserve that smooch after his lame "that's so random" line regarding Valentine's Day.

Should Cassie have destroyed the medallion?
Matt: Sure. That thing seemed pretty evil and the shot of her hand, dripping blood from between the fingers, was very cool.

Carissa: Yes, but Cassie will only do what Cassie wants. Cassie wants answers about her family. She never knew about her witchy side and she won't stop until she has every piece of the puzzle. Except the piece that would tell her where grandma is, because apparently it's never knocked upside her wonky head that something is horribly wrong with Jane!

Steve: No, she should have let Adam die! I mostly kid, but I am serious that the show needs a game-changer. It was so jarring when Nick died and something along those lines is what I'm hoping to see on Thursday's new episode.

Who would win in a real pillow fight, Diana, Melissa or Faye?
Matt: Melissa, hands down. Or feathers down, I suppose. She has some seriously pent up rage and has felt betrayed by both Diana and Faye at times. She's knocked each down with one shot.

Carissa: Who cares, as long as we get to watch?

Steve: Every male viewer, obviously! But, seriously, folks, I've gotta go with Faye. Remember how she made the weather change on the series premiere? Yeah. Case closed.

Matt Richenthal is the Editor in Chief of TV Fanatic. Follow him on Twitter and on Google+.

Tags: The Secret Circle, Round Tables