The Secret Circle pushed its cursed cards to the table last Thursday, airing a casino-based episode that revealed a possibly dark future for Adam and Cassie.
Once they put their clothes back on, that is.
What was our favorite scene? What will happen next to this couple? What do we think of Grant? Come along with Round Table members Matt Richenthal, Carissa Pavlica and Carla Day now as they breakdown "Lucky."
-------------------------------------------
What was your favorite scene from the episode?
Matt: Blackwell shoving Dawn against the school locker for sure. I'm all a well drawn out mystery, but it's about time we know for sure if this guy is on the side of good or evil and this (sort of sexy) scene was the first step in making it (mostly) clear that he really does have Cassie's best interests in mind.
Carissa: What may have been Faye and Lee's last kiss. HAWT!!!
Carla: When Cassie and Adam finally gave in to each other and got together. It had been a long time coming. Their pining for each other was getting to be too much, so I hope this will move the story along.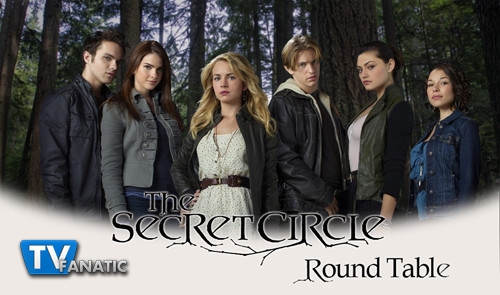 Is this the last we've seen of Lee?
Matt: Yes, although that may be wishful thinking. I think we all can agree that the best development of the entire season was Nick's shocking death. We need to axe a couple Chance Harbor residents in order to keep the stakes raised.

Carissa: Sadly, I think it is. Chance Harbor has an overabundance of adult males and teenage girls. So I'm going to toss out there that if Faye doesn't end up being Cassie's sister, she takes a go at John on her 18th birthday.

Carla: I hope not. I was really starting to like him. I can't imagine that his story with Faye will end there. She finally found someone perfect for her.

Do you trust Grant?
Matt: Sure, why not?!? Either way, I can't blame Diana for doing after him. You did hear tha accent, right?

Carissa: Because I can only give a true answer based upon information from my spoiler-aholic problem, I'll just say that nobody in Chance Harbor really seems to be truly good, most especially the lacking teenage boys.

Carla: No way. I don't trust anyone in Chance Harbor.

Let's follow the casino night theme: What are the odds of Cassie and Adam making it as a couple?
Matt: 5-1 against. There's too much working against them: curses, midterms, shirtless former witch hunters. I just don't see these two getting a lot of quality time together.

Carissa: I hate to say it, but who cares? They have no spark. Jake and Cassie have no spark. Maybe Cassie and Melissa should give it a go because it doesn't seem like Cassie is really into boys, and we could use a different luster in this percentage-challenged town!

Carla: It depends on the curse. Will they be forced to mate for life now... forever connected? I'm guessing that the curse will freak them out and they will break out, unless of course they cannot stay away from each other. Then, it will be crazy time in Chance Harbor. This may just be the shake up the shows needs.

Tags: The Secret Circle, Round Tables