I turned on my TV for a Glee episode tonight… and a Whitney Houston cover concert came on.
Yes, I knew what to expect going in to "Dance With Somebody," considering the set-ups for previous tribute episodes - cover song; random scene to serve as fodder for the next cover song; rinse; give Will some cheesy cliches to utter; repeat - but this installment came across as especially galling because it was in honor of someone who died just a couple months ago.
A cynic would view the episode as a chance to exploit Whitney's death for ratings.
A Gleek would shed a tear over Chris Colfer's version of "I Have Nothing" and think there's no better way to honor the legend.
I'm guessing most people would fall somewhere in between.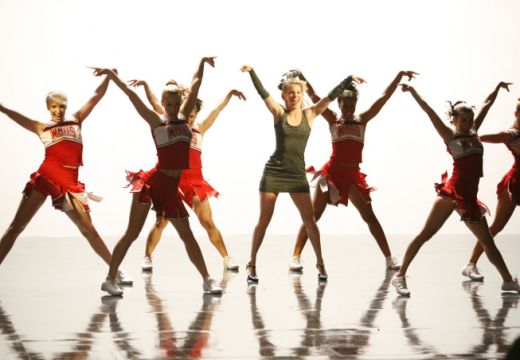 Me? I just want good television. And this was anything but. The scenes in between numbers were simply brutal to watch. I'd have preferred if Glee abandoned any pretense that it could contrive a correlation between Whitney's passing and the seniors graduating and simply gone American Idol on us, giving each cast member a chance to sing a Whitney classic.
It would have been far less insulting than the following storylines:
We've seen Joe and Quinn interact for approximately five minutes on Glee. Now, in the course of less than an hour, he's crushing on Quinn... then immediately wanting to sleep with her... then wondering if he ought to give up his faith for her. It's impossible to imagine this character isn't a major slap in the face to practicing Christians. Joe is a walking stereotype, devoid of development and personality, who just shows up here and there when Glee wants to give religion 10 minutes of air time.
P.S. The song Joe and Quinn sing to each other, "Saving All My Love For You," is about ADULTERY.
We've seen nothing resembling problems between Kurt and Blaine, until the former randomly starts flirting - and, yes, of course, cheating - with some guy he met at the music store, solely so Blaine can launch into "It's Not Right, But It's Okay." Problems between a senior and a junior dating because the former is leaving? Absolutely realistic and a welcome storyline. Problems created and solved within one episode, just to provide context for a song? Sadly, typical Glee these days.
Note to Will: find some friends your own age. Moving your wedding date so a bunch of high school kids can perform at it? That's simply crazy and creepy.
So, no, it won't come as a surprise to loyal readers of my Glee reviews that I abhorred this episode. I apologize to those who are sick of hearing my complaints each Tuesday night, but I assure you: I'm sick of writing them. I really do want my old Glee back, though at least I knew not to expect it this week. I didn't enjoy tribute episodes even during the show's prime.

Here's a positive: I always get a kick out of Emma's pamphlets!

But that's about it. So you take over, readers. Respond to the following poll questions and share your thoughts on "Dance with Somebody."

DID KURT CHEAT ON BLAINE?

WHAT WAS YOUR FAVORITE PERFORMANCE?

WHAT DID YOU THINK OF THE WHITNEY HOUSTON TRIBUTE?

Matt Richenthal is the Editor in Chief of TV Fanatic. Follow him on Twitter and on Google+.

Tags: Glee, Reviews