It's been a few weeks since we last saw Mike and Molly in "Peggy Goes To Branson", and each week brings us closer to their wedding!
Last episode, Mike and Molly dealt with the loaded issue of having a family, and this week in "Molly Can't Lie", they face the slightly more immediate issue of losing their wedding venue.
But they lose it for a good cause: religious freedom.
I'm definitely on Molly's side of this argument – she shouldn't have to sacrifice her beliefs or create false ones just to please others. Mike and Peggy, however, are determined to hammer home the old school Catholic message (stereotype) of lying to maintain the status quo.
It's nice that Mike & Molly doesn't let that stand and shows that in a relationship, lying or just keeping your opinion to yourself all the time doesn't work.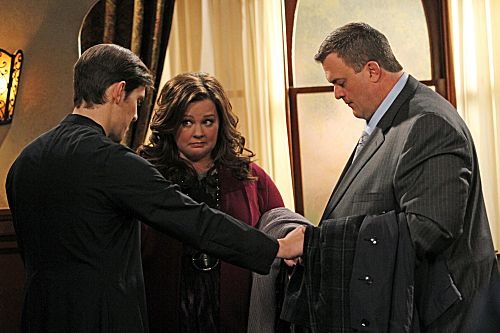 But it's a rocky road to get there. Peggy is rooting hard for Mike to rebuke Molly for her opinionated behavior, which is the irony of all ironies considering how outspoken Peggy is.

Luckily, Mike is smarter than that. He stands up to his mother for her unwelcome opinions, which ironically again, gets him thrown out.

More relaxed about religion and moral issues in general, Molly's family is more supportive. Predictably, Victoria is there for her sister and stands behind the idea of an independent, assertive woman.

Too bad Molly didn't take Victoria's pot dealer up on his offer to hold the wedding in his basement growing room. I always want to add a dash more absurdity to Mike & Molly, and I think that scenario would have done it.

Fortunately for Mike and Molly, the Baptists come to their rescue. Mike & Molly usually walks the fine line of leveraging stereotypes for humor while showing the complexity beneath the common conceptions, but this week I think the show fell a little short when it came to the religious stereotypes. Instead of pointing out the subtleties and shades of gray in the issue, it reinforced the ideas.

However, I do think that it succeeded when it came to the gender stereotypes. Most of "Molly Can't Lie" was devoted to the idea of an outspoken, opinionated woman and the connotations that go along with that, such as it's unfeminine or untraditional.

There were characters that argued both sides, but eventually Mike and Molly made up their own minds and found a balance. Like Mike said, that's what makes them such a good team. 

Our Mike & Molly quotes page has more great lines from this week's episode. Check them out and leave a comment with your thoughts on this week's episode below.

Tags: Reviews, Mike & Molly