Mike & Molly is in the homestretch of its second season and the wedding is just two weeks away! Expect the remaining episodes to do due nuptials diligence, starting with this week's "Bachelor / Bachelorette" parties.
Next week is the wedding rehearsal, and then the actual ceremony. And, of course, lots of family drama.  
We got a dose of the familial dramatics tonight when Peggy, miffed by her ex-husband's unexpected visit, joins Molly's bachelorette party. Peggy is definitely not the first person that comes to come to mind when I (or any of the characters on Mike & Molly, for that matter) think party, but she definitely stirred things up tonight.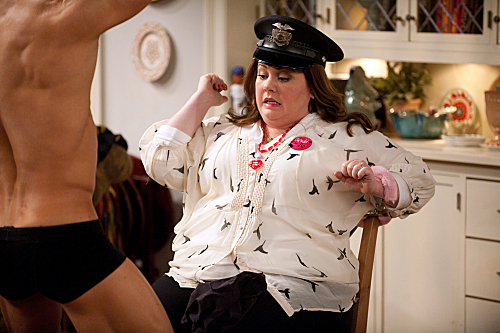 I like to think that the Peggy that showed up to Molly's party is the Peggy of many years ago – a party girl that wanted to have a good time. She definitely made her desired impression on Jack, her ex, when she left the house with the male stripper!

Despite Peggy's presence, Molly's bachelorette party didn't really add anything to the story, besides some great Mike & Molly quotes. It was really there just to balance out the meatier plotline of Mike and Jack's reunion.

Bringing your father along for your bachelor party would definitely be awkward, but it seems like Mike's party would have been a sad affair even if Jack hadn't been there. But the toasts Mike's friends gave him were a nice layer of genuine friendship on top of all their machismo banter about boobs, gays and strippers. Jack's recognition of the man his son has grown up to be was a sweet moment.

In the end, it's hard to tell if anything has really changed between Mike and his dad because they end up where they were at the beginning of the episode: wrestling in Molly's front yard. Yet it seems that the Biggs men leave a lot unsaid, and I suspect there's a stronger bond between them than there was before.

Tags: Reviews, Mike & Molly
Want more Mike & Molly?
Sign up for our daily newsletter and receive the latest tv news delivered to your inbox for free!
More From TV Fanatic
On tonight's The Bridge, Marco is made an offer that he initially refuses. Will he agree to go after Fausto?
Things go from bad to worse for Molly on Extant as she tries to escape the prying eyes of the ISEA but chooses the worst place for safety. Read on for a full review.
Mike is on a war path on Graceland... but is he headed in the right direction? Read our review of "Los Malos" now to find out!
On Suits, Rachel tells Mike about the kiss. Where did it go from there? Find out now!
---