I enjoyed last week's premiere of The Client List, I liked "Turn the Page" even more.
It started off with linen day at the spa, which delivered some of the sexy humor that makes this show so much fun. As the women ogled the gorgeous guy folding the new towels, Riley gave us a great The Client List quote…
I don't know if he's so hot because he's gorgeous or because he can actually do laundry. | permalink
Isn't that the truth? But it's also one of the things I like about this show: it doesn't take itself too seriously.
Riley's bigger problems came to light pretty quickly. First off, Kyle may have called her but he hung up never uttering a word. Then when she tried to call back his cell phone was disconnected. Of course, the not knowing what's going on with her hubby was making her crazy.
Georgia's offer to take the girls out made for a fun night with an interesting ending. The ladies did a great job on stage and Carrie Underwood's Before He Cheats was the perfect pick for a bunch of ladies who have had their share of man troubles, along with a few drinks to go along with them.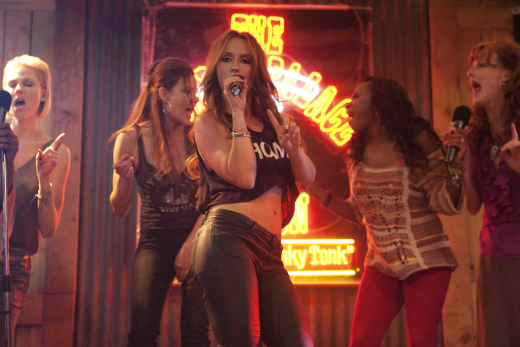 Evan's eyes positively lit up when he saw his sister-in-law singing on stage. This boy's got it bad and the two have some serious chemistry. How long do you think it will be before Evan makes a move?

Riley was getting differing advice from all areas. Linette thought she should dump Kyle, forget about Maxine and move on. I could understand that she wanted to see her daughter move forward and be happy but it's only been a month. There's still so many unanswered questions. And Georgia was right. I don't believe Riley can possibly get on with her life without knowing the truth.

I, too, thought that Maxine's son was probably Kyle's. There was certainly a resemblance and once Riley saw that Maxine had Kyle's old car it didn't seem like that big of a leap.

At the same time, I appreciated that they took the story in a different direction. That Kyle and Maxine had a bond forged through fighting a drug addiction and not sex surprised me. Although the revelation made Kyle slightly more sympathetic, he was obviously hiding his share of secrets. It's left Riley wondering if she ever really knew her husband at all.

I knew Riley was dreaming at the end. Although I'm pretty sure we'll see Kyle again I don't think it's going to happen any time soon. The dream itself showed us what's in Riley's heart. She misses her husband. She wants him home. She wants an apology for what he's done but she also feels horribly guilty about what she's doing.

Overall, I've really enjoyed the way this show has balanced the angst of a single mom struggling to live her life and raise her kids after her husband has walked out with the fun, humor and sexiness of the premise. Jennifer Love Hewitt is so darn likable that I'm rooting for Riley to be happy every week.

So do you think Kyle will return? Will Riley's secret come out and if so, how will Linette and Evan react? There's a lot of story to play here and I'm looking forward to seeing what's next on The Client List.

C. Orlando is a TV Fanatic Staff Writer. Follow her on Twitter.

Tags: Reviews, The Client List