Modern Family Review: The Happiest Place on Earth
by Leigh Raines at .
Who doesn't love The Happiest Place on Earth? Well, I'm sure there are some people, but I'm certainly not one of them. On this week's Modern Family, the Dunphy-Pritchett crew traveled to Anaheim to spend the day at "Disneyland."
Despite Manny's protests that he wanted to hang back in order to ensure that he won the stock market project, everyone seemed to have a mostly good time. By the end, at least.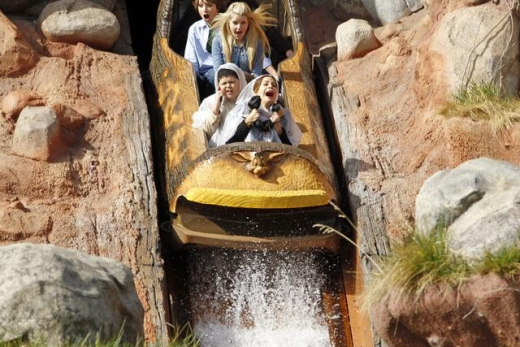 Can you just imagine how much fun this episode must've been to shoot? I'm seriously green with envy over here. I am counting the days until my nieces and nephews are old enough to take another family trip to Disney.

I think Jay is right, you do need a kid to get into Disney. It's too bad Manny is in such a rush to grow up. But it is hilarious that he's not afraid to admit that he's now accustomed to a certain lifestyle. That kid is nothing if not honest. 

I really can't believe that Claire set up Haley on a blind date for their day at the park. I see how it's a good ice breaker, but what if they didn't get along? I can't think of anything I'd want to do less than entertain a total stranger when I'm spending the day with my family at Disneyland. But Claire is the risk taker, that's her M.O. She often references her days as a wild child. 

As much as Claire relates to parts of Haley, she hopes that Haley ends up with a guy like Phil. Which is why she was all the more amused when rebellious Dylan turned out to be a Dapper Dan or whatever that barbershop quartet was called. For Claire's exact line, hit up our Modern Family quotes section. 

Poor Phil has been waiting for the day Luke would be old enough to ride roller-coasters with him and he ended up feeling sick. Just looking at Phil's nauseating reaction had me recalling my own feeling after going on certain rides. Personally, I opt for the adventure and theme stuff over the speed and stomach dropping stuff. Lucky for Phil, he wasn't sick because he was getting old, but rather because he has poor sharing habits (yes, you should get cups at the office) and caught the flu at work.

I thought the most touching thing about this episode was when Jay revealed why he loved the Abraham Lincoln robotic show. It wasn't because of the show, the performance itself it probably a little dull. But it made him realize that he needed to put his kids first. Jay isn't very expressive about his feelings, so it was nice when he opened up about his love for Claire and Mitchell.

What did everyone else think about the family's jaunt to Disneyland? Could you have survived a day in Gloria's shoes? Would you have gotten Lily a leash? Do you love Disneyland? Hit the comments!

Leigh Raines is a TV Fanatic Staff Writer. Follow her on Twitter.

Tags: Modern Family, Reviews
From Around the Web