Ned and Edna = Nedna?
"Ned 'N' Edna's Blend" offers the stunning revelation that Ned and Edna are married. Exactly when did this happen? While the unveiling of this new couple was a shocking turn of events, it was a little unbelievable. Ned and Edna don't really seem like two people with very much in common.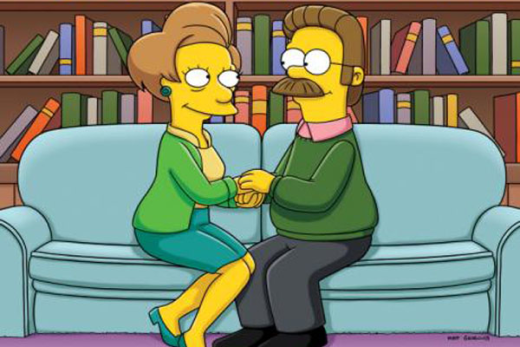 Ned Flanders, a.k.a Jesus' best friend, hasn't exactly been living it up as a widower. Although he did date a movie star a la Notting Hill in "A Star is Born Again" back in the 14 season. Regardless, Edna Krabappel - with her chain-smoking, divorcee desperation, and overall cynicism - doesn't really strike me as Ned's type. And vice versa. Each character is enjoyable in his/her own right, but I guess I never imagined them together.

For whatever reason, the two were paired up. I imagine the unconventional duo was married off to setup some hilarious Odd Couple moments. But their marital troubles didn't seem all that amusing tonight.

Rod and Todd are usually pretty easy targets for satire, with their blind devotion and childish innocence. Their scenes can be incredibly funny, especially when they interact with Springfield's resident bad boy, Bart Simpson. However, Edna's motherly ministrations over the two, putting them in a proper public school and buying them shoes with lights, didn't strike me as particularly hilarious. They were definitely very sweet, and it was a nice Mother's Day touch. Edna was just helping the boys acclimate to the real world, which was a terrifying prospect for Ned.

Ned's "Davey and Goliath"-style nightmare was probably the only funny highlight to the argument between Ned and Edna. Although Seymour Skinner's blatant (and pathetic) jealousy was a close second. I feel like it would have been better to see the courtship between the two that led to this very real (and apparently common) parental issue.

Watching the two move past their obvious differences and enjoying the amusing consequences of their disparate lifestyles would have been a much more enjoyable half-hour of television.

Would you have rather seen their initial dating instead?

Even so, there were some classically entertaining The Simpsons quotes this week. Visit that section now and sound off on the unexpected hook-up.

Tags: The Simpsons, Reviews
Want more The Simpsons?
Sign up for our daily newsletter and receive the latest tv news delivered to your inbox for free!
More From TV Fanatic
Evan, Paige and Bob confront Russel about his rug theft, while Divya and Jeremiah treat a woman desiring to be a mom. But were those all the surprises the Hamptons had to offer? Read our review of "I Didn't See That Coming" now!
On Chasing Life, Leo makes wishes come true. Elsewhere, Brenna meets her other sister, discovering one more family secret. Read on for more!
Join us for the One Tree Hill Rewatch of Season 1 Episode 4! Ready to relive the fun drama?
Power struggles ensue all around Chester's Mill on Under the Dome. Lives will be put on the line.
---