On the last Common Law episode Wes and Travis shared their identities. This hour, meanwhile, found the buddy cops sharing "Joint Custody"of an adorable narcotics pooch named Hudson.
After a week on hiatus, it sure was good to have our boys back on Friday night television!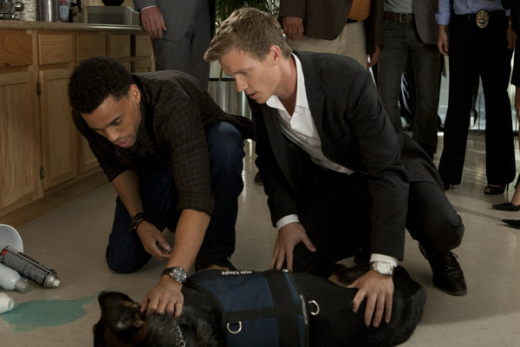 As much as I want to give the show credit for giving the concept of these two sharing a dog almost akin to sharing joint custody of a child the old college try, I wasn't particularly impressed with its execution or resolution in the end.
It was obvious they were going to come into taking care of the canine and develop a sincere attachment to it.
Fortunately, everything that made up the middle redeemed the whimsical and potentially unsatisfactory underlying foundation of the episode.
Wes and Travis' inability to control the dogs' barking, whether in the presence of a pretty lady whom Travis intended to (and did) seduce, to Hudson's insistence that someone in Wes' hotel was in possession of narcotics, their attempts to pawn the dog off on the other were entertaining to a certain extent.
In terms of overall character development, I am a little over the over-emphasis on Wes being the "responsible one" while Travis is his exact foil. I get it, and I'd like to move on to something a little bit deeper if at all possible.
Looking back, the episode felt like it lacked substance in a way I just can 't completely put my finger on, but I definitely think there needs to be a little bit more depth added to these characters before they become overly predictable.
There were, however, some fun highlights from the hour:
Wes resorting to taking Hudson to Alex's place in order to stay with him when he got kicked out of the hotel temporarily.
Wes and Alex impersonating smooth Jazz DJ's in order to sooth Hudson to sleep.
Mr. Slushy. Enough said.
Wes and Travis double-teaming Hawkes in that shipyard.
Wes suggesting that Hudson "play dead" In order to draw out their culprit.
Captain Sutton urging everyone to repeat, "I am a positive ion in the universe." So inspirational!
Common Law, while a fun and often light-hearted show, is at a crossroads. It can either become a broken record, or start playing some new tunes. I am certainly hoping for the latter.

Were you glad to have the show back this week?

C. Charles is a TV Fanatic Staff Writer. Follow her on Twitter.

Tags: Common Law, Reviews
Want more Common Law?
Sign up for our daily newsletter and receive the latest tv news delivered to your inbox for free!
More From TV Fanatic
Join us for the rewatch of One Tree Hill Season 1 Episode 3. Ready to rundown this fun installment?
This week on The Last Ship, Danny gets sick and the crew begins to panic. Is it the virus? Meanwhile, Rachel's vaccine trials continue to fail.
Who was able to successfully problem solve on The Rachael Ray Show this week? Find out now in our review of Food Network Star.
The Masons are reunited on Falling Skies Season 4 Episode 6. Will it be a happy or contentious reunion?
---