Aside from what I felt was a totally predictable ending, I gave the season premiere of Switched at Birth Season 2 premiere five stars. 
"This Is the Color of My Dreams" caught us up with everyone and laid groundwork for what's to come this fall. We got to see a little bit of each character's story, making this a really well-rounded episode.
In the spring finale, the Carlton prom was a bit of a disaster, leaving our two leading ladies heartbroken. Different people deal with heartbreak in different ways, of course.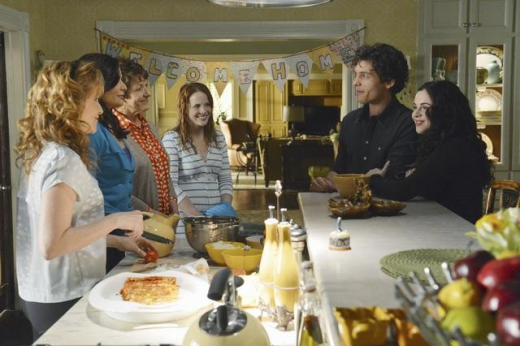 For Daphne it was to write off romance, spend time with family and work on her passion for cooking. For Bay it was to get the Hell out of dodge, go to the Galapagos islands, do some sort of work/study and find a new boyfriend.

Well, damn, I wouldn't mind if my parents sent me to a tropical island every time a guy broke my heart! However, we all know that distance and distraction is only half the battle. Bay was inevitably thinking about Emmett and he of her. I'm not gonna lie and say I wasn't emotional at Emmett's big gesture with the street art. However, I'm with Bay and still would not have forgiven him. 

It was bold and appropriate for Simone to try and apologize, but she should've known it wasn't to go over well. Simone and Emmett screwed over two Kennish children, not just one. I'm glad to see Daphne is pining after Wilkie. She seems to be focused on bigger and better things. 

Could "Chef" have been any meaner? And was that Raj from 90210 waving the chicken at her? I like Daphne's approach to things. She didn't want Kathryn to say anything, she wanted to prove herself to Chef on her own. I've always felt Daphne has had a very strong character. Bay and Daphne may not be all the similar, but they have definitely bonded and both stick to their guns. I love when Bay introduced Daphne and her "sort of sister."

However, my favorite line of the night was actually Kathryn's description of Emmett in her book:

He rode up on his motorcycle looking like a deaf James Dean. | permalink

So what's going to happen with John and Kathryn's marriage this season? Katie Leclerc told me that Kathryn's success would definitely change things. And how about the newlyweds, Regina and Angelo? What is going to happen with Patrick? After the tantalizing preview, I can't wait to find out! 

How did you feel about the season premiere of Switched at Birth? Hit the comments!

Leigh Raines is a TV Fanatic Staff Writer. Follow her on Twitter.

Tags: Switched at Birth, Reviews