If, like me you were not a Morgan fan before, I hope "Wild Flowers" was successful in showing you why she has been such a great addition to the CSI.
Of all the female field agents the show has featured over the years, Elisabeth Harnois arguably possesses the best facial expressions of any of them. Her look of horror and disgust as she called DB to tell him she found the girl and her tongue had been removed made me feel a little ill for her too.
Of course, the big confession was Morgan telling Jacinta that she considers Hodges her best friend. After the kiss she gave him in the Season Premiere, I wondered if there was going to be more. Now, I kind of hope they stay friends and move into a more sibling-like role. 
Then we got to see her anger, rage and sadness towards Moreno (and herself) for allowing Jacinta to be released to her father. I'm not sure what Harnois does to channel such emotion, but her range and timing are very good.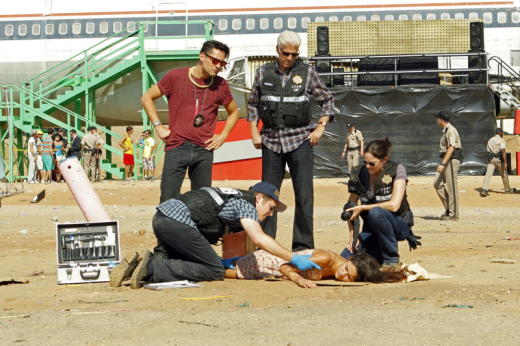 Speaking of Moreno, it seems like he is becoming a more regular cast member. While he is no Jim Brass, he had no trouble holding his own with Morgan or Nick. Enrique Murciano has a lot of experience on crime dramas after spending seven years on Without A Trace and it shows. He is a good choice for a "younger" detective. 

I was surprised we only saw a tiny bit of Fin this week, as she barely had any verbal banter with Moreno when he brought in the truck driver. Actually, as far as the case went this week, I came out at 50%. I totally called the drawing was of wind-farm fans from the first time Jacinta drew it. But, on the flip-side, I completely missed the father being the one that was keeping them shackled. I literally gasped when DB put it together. 

What did you think of the episode? Are you a Morgan fan now? What about Moreno, would you want him to be a full-time cast member?

Jim G. is a TV Fanatic Staff Writer. Follow him on Twitter.

Tags: CSI, Reviews