We've got chills! They're multiplying! Roles were cast on last Thursday's Glee and new character Ryder Lynn made his debut. What did we think?
Join our Round Table panel of experts - TV Fanatic staff members Leigh Raines and Miranda Wicker, TV Fanatic reader Suzanne Davis, and Gui Omena from GleekDaily - as we break down "The Role You Were Born to Play." Sound off below with your answers to this week's questions...
---------------------------------
What was your favorite scene?
Leigh: I loved when Mr. Shu handed over the reigns of the glee club to Finn. It felt very fitting.
Miranda: The scene with Finn where Wade/Unique talks about not fitting in anywhere was both heartbreaking and uplifting. I'm glad he has glee club.

Suzanne: When everyone found out their parts. I am totally on board with their casting choices.

Gui: Probably the scene where everyone finds out what part they got cast in the musical.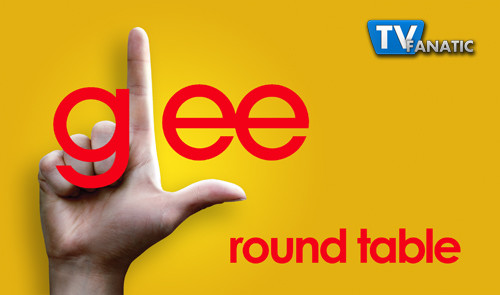 What was your favorite musical number?
Leigh: "Hand Jive" was awesome because it reminded me of the real Grease. The competitive couples dancing and jealousy was on point.

Miranda: I loved them all! "Hopelessly Devoted" was great, but there goes my Darren Criss love showing. "Everybody Talks" was also fantastic.

Suzanne: I loved all the Grease songs. I'm a sucker for musical numbers from actual musicals.

Gui: "Everybody Talks" and "Born to Hand Jive." I couldn't decide between the two, both were very entertaining.

Since it seems we have a love square now, how would you pair up these characters: Jake, Ryder, Kitty, Marley.
Leigh: I loathe Kitty so let's ditch her and make it a love triangle.

Miranda: I'd like to see Kitty gone, too, and then we can just have a triangle with the good boy and the bad boy fighting over Marley.

Suzanne: I like Jake and Marley. Kitty can jump off a cliff and I'll take Ryder.

Gui: I didn't really feel Ryder but I think he's a much better fit for Marley than Jake is. Jake was much better with Kitty.

Speaking of Ryder, The Glee Project season 2 winner Blake Jenner, what do you think of the character?
Leigh: I liked Ryder, he was a breath of fresh air!

Miranda: I was a fan of Blake during all of The Glee Project and I think they've written a really great character here. I don't buy him as a football player, but I like him.

Suzanne: He's good! The whole "Oh I don't sing" and then suddenly busting out in song (with a great voice) was a little ridiculous, but I like him.

Gui: I thought he was a little dull. Maybe because we just haven't seen enough of the character or maybe because we've already experienced something like that in previous seasons.

Did you find that you missed the characters in NYC or did the show go on well without them?
Leigh: They were missed but it helped to have some of the other old characters back.

Miranda: I didn't miss NYC. At the beginning of the season, that was my favorite part, but after last night, I'm thinking we need to spend more time at McKinley.

Suzanne: I definitely missed NYC. DEFINITELY.

Gui: Surprisingly, I think the show went well without them. Although I hope episodes without them won't happen very often!

Miranda Wicker is a Staff Writer for TV Fanatic. Follow her on Twitter.

Tags: Glee, Round Tables