Modern Family Review: Bar Mitzvah Crashers
by Leigh Raines at .
Forget Wedding Crashers. The new cool thing to do is Bar Mitzvah crash! Between last night's Happy Endings and this week's Modern Family, it seems like the celebration for the Jewish rite of passage has become the new hot party spot.
In "Mistery Date," Manny and Luke hit the dance floor in search of some cute girls.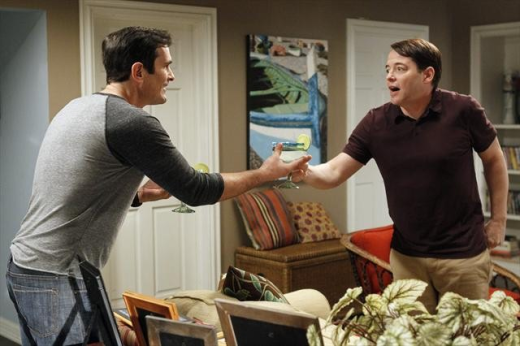 Of course, with Manny it's never just a cute girl. Manny is like a Kardashian: when he falls for someone, he falls hard. It's always a moment that moved his soul or that he felt like he was waiting for his whole life. Manny might just be the most romantic teenage boy since Romeo himself.

With the help of his devious sidekick Luke, Manny finally got in about 60 seconds of face time with the little blonde object of his affection. I gotta say, the boy was smooth: 

Excuse me, hi. My name is Manny Delgado and I've been searching for you since you smiled at me in the lobby today, maybe even my whole life. It's too late for us to have the magical night I was hoping for, but it's not too late for us to have a memento of what might've been. I'll be waiting. | permalink

What did she think she was getting by going into that booth with him? C'mon, girl, you could've given Manny a little cheek, maybe a peck on the lips. Why were the boys at the Academic Decathlon anyway? I'm sorry, but every time I hear that phrase I think of Billy Madison. 

I think Alex might've lost the competition on purpose. She loves to win, but she doesn't want to be paraded around by a show pony? I understand she feels pressure from Claire to be perfect. After all, who do you think Alex picked it up from? This season things have really shifted for the middle Dunphy child. Alex has been struggling to fit in and up her "cool" factor. First it was the girl with the partially shaved head, then it was the gay boyfriend. Alex is just a teen, she doesn't want her mom embarrassing her at academic competitions!

As sharp and intense as Claire is, Phil is a little bit dense at times. Matthew Broderick didn't give off an overly flamboyant or aggressive vibe towards Phil, so I could see why he didn't necessarily pick up on David being gay. He probably didn't even fully realize it after he kissed him goodbye. All the little moments that kept happening with the music, the spilled margaritas, etc were hilarious. I was just waiting for Cam and Mitchell to pop in and blow the whole thing.

I'll tell you one thing: if I ever have a baby, Cam can give me all the advice he wants, but I seriously don't want an extensive mural like that in my house. Remember the one he and Mitchell got? Going off the registry can be tricky!

What did you all think of this week's episode? And where was Haley? Hit the comments! 

Leigh Raines is a TV Fanatic Staff Writer. Follow her on Twitter.

Tags: Modern Family, Reviews
From Around the Web