Darby Stanchfield makes quite an impression.
Despite only having appeared in one previous episode of Castle, fans of the show are clamoring for Meredith's return. And as this Castle sneak peek for "Significant Others" teases, the title character's first wife doesn't mind making herself right at home.
And that's only half the story - because over on Scandal, Darby's alter ego (Abby Whelan) may be headed towards a boiling point. Check out our interview below, as Darby dishes on Meredith, Abby and what makes her TV lovers so much fun.
----------------------------------------
You were only on one episode of Castle Season 1, but Meredith certainly made a strong impression on fans.
I really noticed that with Twitter. I cannot believe how much the fans love to hate Meredith, the deep fried Twinkie. I love it. It's so fun to play this character and yeah, even though it was one episode it definitely made a big impression. I think probably all of that wild sex with Castle and just being such a naughty woman and going in there and sort of marking her territory in the precinct. Calling Castle "Kitten" and all of that. It's too fun.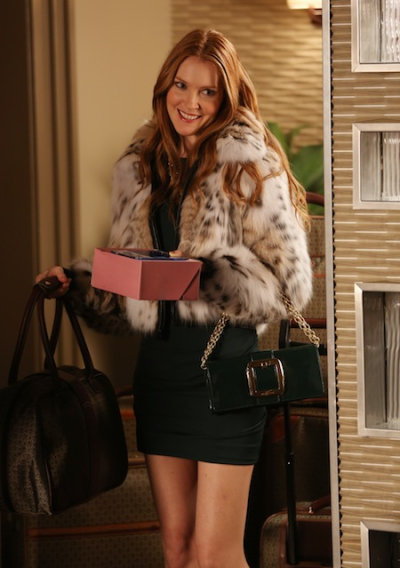 What was it like to be back on the Castle set after all of this time and how have things changed behind the scenes since season one?
Well, Molly (Quinn, Alexis Castle) has grown about a foot. I saw her at the TCA's a couple of years ago when we came out with Scandal. But I forgot how tall they all are on Castle. I'm one of the taller ones on Scandal. But in terms of my dynamic with them, not much has changed. I really love all of those actors. I've actually worked with Nathan and Stana and Molly before on different projects, all separate from Castle. I've known them professionally for years, so it's always fun to act with them. They're great. They're a super welcoming group. Yeah, we had a good time.

What's your view of Meredith? Some fans see her as self centered and manipulative, others as just flighty and not meant for motherhood. How do you see her as a character?
I think Meredith is incredibly smart and self aware and she knows exactly what she's doing but she's a really, really good actress. So she manipulates everything to her own liking. She's very self involved and very…not a bad person, by any means. She just wants to have fun and she wants everyone around her to have fun. Meredith always wins in her own eyes. There's never been a situation where she loses. So even though she cheated on Castle and that was the reason why the relationship dissolved, she still came out and won. She still flies in whenever she wants and sees him and they still have sex occasionally. She doesn't have the responsibility of taking care of her daughter but, she can have tender moments with her daughter when she's there. I see Meredith as a really, really good person but she's just a little naughty and irresponsible.

I don't know how many spoilers you can give us but does Kate find out that Meredith is the one who cheated on Castle in that relationship?
I cannot say so much about that. The thing I can tell you is that Meredith and Kate, they get some time together. We get some one on one time together and the fans are going to love it. There are some unexpected turn of events that happen in this episode. It's really fun. And even though Meredith leaves at the end of the episode, there's always the chance of her coming back because she kind of opens up a can of worms. Whether she does it intentionally or not, that will be up to the fans to discuss and decide. She surreptitiously stirs up trouble as she's leaving out the door.

I've got to get a few Scandal spoilers.  What are the chances that Abby and David will get back together?
What I can tell you is that they're not over. I don't know if getting back together, what that looks like in their world because it's so dysfunctional. It's so complicated and weird but anything is possible with those two. Things continue to unfold with them.  They continue to connect, or not connect but they continue to be in each others lives. It's complicated and scandalous and dysfunctional. And dangerous because we have the David Rosen problem still.

You've done love scenes with both Nathan Fillion and Joshua Malina. So who is the better onscreen lover? Nathan or Joshua?
Oh!  No one has asked me that question yet. They are like apples and oranges. They can't compare. I can't do that. They're both really, really lovely and funny. So, you know the first time I did the scene with Nathan, we were just getting ready to have a toss in the sheets and he turned to me and said, you're going to have to forgive me. I just had spicy Indian food. And he wasn't kidding! He had to shoot a scene right before then where he was eating spicy Indian in the show. So, both of them have this sense of humor. And Josh Malina, of course when we're in the shower he's like singing show tunes and we're both wearing 17 pairs of underwear. He's just being hilarious. They are both so fun to work with because they're funny guys. It makes those scene sort of come alive because they're just so much fun, those guys.

Other than Scandal or Castle, what current TV show would you love to star on?
If I had the opportunity I would love to star on Breaking Bad.  I love that show. The chances of me ever getting cast on the show are slim to none since it's basically over but yeah, that would be a dream job to go in there and work with them. Or Boardwalk Empire…or Homeland. Those are some of my favorites.

How much fun is it being on two hit shows?
I'm so grateful. It's so, so much fun. And I love both of the characters so much. I love the shows so much and the dynamics. I'm just having the time of my life.

Any teasers for the remainder of Scandal Season 2 before you go?
Tensions with Olivia Pope and associates, they continue to increase and they definitely reach a boiling point within this first arc, the first 13 episodes.

C. Orlando is a TV Fanatic Staff Writer. Follow her on Twitter.

Tags: Castle, Exclusives, Interviews, Scandal