Pretty Little Liars Review: Mad Cow or Just Plain Mad?
by Teresa Lopez at .
So they say "She's Better Now." But, we don't really believe that... do we?
Regardless of whether or not Mona's cured (or if she was ever crazy at all), she is baaaack. I just wish her return wasn't in one of the most dull episodes of Pretty Little Liars Season 3. Despite all the drama and excitement drummed up by this year's Halloween episode, "This is a Dark Ride," can we all agree this return was rather boring?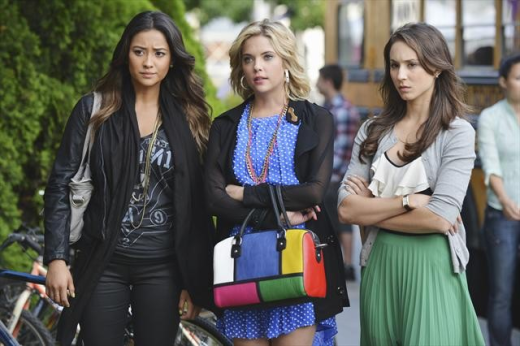 Mona's back in Rosewood after a little stint in the nuthouse, but as Pretty Little Liars fans already know, this isn't her first outing. She's escaped a few times to do some A business, most recently on the Halloween train ride from hell. But she's back (from outer-space) to show the whole town of Rosewood she can survive being branded a psycho. But, obviously that's not all.

Mona made a special point of speaking to Hanna about her return to Rosewood High, hoping for the support of the girls she used to torture in her spare time. Other than Hanna, no one was buying it. They (and we) made have had a little sympathy for Mona after someone put that cow brain (so gross and squishy) in her locker, but that flew out the window the moment Caleb found out that it was Mona and not her parents that insisted on her returning to Rosewood.

Just what is she up to? 

Scaring Lucas appears to be one of her hobbies now. He looked terrified when she came up to him following the brain-locker incident. Plus, I'm pretty sure it was Lucas who was almost run over at the start of the show by Toby. He seems to have every reason to be scared, but what does A have over him? What does he know besides who is on the A team?

And while we're on the subject of Toby, it's getting harder and harder to deny what should have been obvious after the big A reveal at the end of last season: Toby is a very dangerous and evil character.

I know, I know. Spoby seems like a great couple. In fact, her relationship with Toby is about the only think I like about Spencer. BUT our recent interview with Pretty Little Liars producer Oliver Goldstick has warned us: "He's many shades of wrong. It will be earth-shattering for all the Pretty Little Liars who trusted this person, but he came back to Rosewood with an axe to grind."

So, there! Toby doesn't have a noble secret plan to protect Spencer.

We'll see where the Spoby relationship ends up this season, but I'm definitely more interested in Byron's role in Ali's death. Ali's journal detailed her blackmailing scheme, and Aria can't deny that her dad might be hiding something. The scenes involving Aria and her father were way more intriguing than her Ezra baby-mama-drama, which was all caused my her mindless interference into matters than were none of her business.

Yet, Ezra is still a mystery in a lot of ways. I highly suspect that he has some big secrets relating to Ali and A-team. What else could he be hiding?

Another suspicious character to watch this season is Jason. He came back to town and began palling around with Mona. All of that was only a little bit weird, but when Mona revealed the puncture wound is his side, I was astounded. Was it Jason who was trying to push Aria off the train that night? Why would he be involved with the A-team?

The episode helped build up the show's central mysteries without giving away much, but I was really annoyed by how much time was wasted with boring plot contrivances. Meredith is now Aria's teacher, *yawn.*  Oh, and then she was nearly killed by an A plot (most likely caused by Mona). I didn't care about it too much.

And what was with Hanna's grandma? I don't recall anyone mentioning that Ashley was going away and leaving Hanna in her grandmother's care. It just seemed like a poor attempt to introduce a sassy grandma character. It's the Betty-White-syndrome, and the whole thing is just overused. Don't you think?

So what are your predictions for the winter season? Be sure to check out the Pretty Little Liars spoilers page, but only if you liked to be spoiled!

Tags: Pretty Little Liars, Reviews
From Around the Web