The Simpsons Review: Changing of the Channel
by Teresa Lopez at .
Of all the episodes on The Simpsons Season 24 (and possibly of the series run), Sunday night's was the most disappointing I can recall.
"Changing of the Guardian" doesn't quite have the punch to qualify for Comic Book Guy's "Worst Episode Ever!" But mostly because it was so uninteresting that it didn't even generate that kind of anger. So, while I'm definitely neutral about what went down in this half-hour of television, it was very difficult to stay tuned in for the whole episode - and that's pretty sad.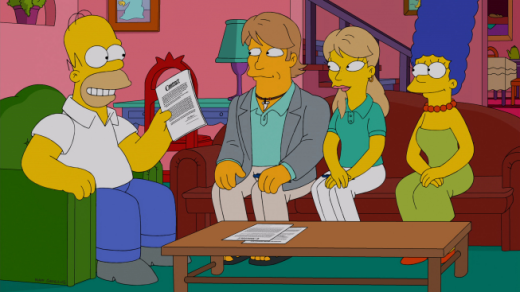 Marge and Homer's quest for guardians leads them to Mav and Portia, a young, hip couple with a disposable income and an exotic lifestyle. Once the couple agrees to take on the legal responsibility for the children, they decide not to wait for Homer and Marge to die and try to steal the kids. But Homer and Marge get them back. And that's the whole episode.

The dullness of the installment lies in the uninspired storytelling. Homer and Marge's search for a suitable replacement should be an amusing experience for the show's seasoned writers, and it does start out that way. Lenny and Carl's storm chasing provides a humorous avenue for Marge and Homer's near-death experience. Plus, Patty and Selma as "tiger-moms" provided a few laughs.

But once the Simpsons make the head-scratching decision to find strangers to raise their kids, the humor dies. I suppose there was supposed to be something funny about the ultra-cool lifestyle of the childless Mav and Portia, especially because they seem like much better, hipper people than Homer and Marge.  But didn't we just see that a similar joke a few weeks ago?

Rashida Jones was wasted as one of the few guest stars whose character was unfunny and poorly sketched out. Portlandia's Carrie Brownstein definitely got the better guest appearance because she was at least allowed to be smartly satirical. Why the waste?

Aside from one scene where Homer begins using donuts intravenously, the episode was severely lacking in laughs. Read through our Simpsons quotes section to see what we included.

Tags: The Simpsons, Reviews
From Around the Web