I've been waiting all week to see Barney's homage to the 1989 comedic classic Weekend at Bernie's.  
Marshall and Ted did Andrew McCarthy and Jonathan Silverman's roles justice, absolutely nailing the costumes. Barney's performance was on another level, though. He was a dead ringer (pardon the pun) for Bernie Lomax, head tilt and all. If Terry Kiser was watching from his home in Colorado tonight, I have no doubt he would have loved "Weekend at Barney's." 
The storylines were pretty straight forward by this show's standards. Lily took another step down her new career path with Marshall at her side. Robin realized that while some less-than-ideal things about Barney will never change, neither will the fact that he loves her. And Ted finally reached the point where he was ready to settle down.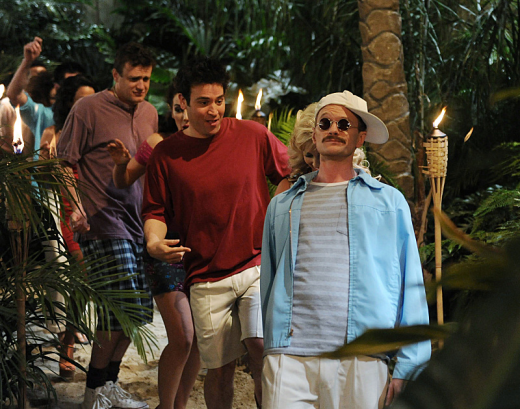 Last week Lily broke down and shared her regrets with Marshall about her path in life.

Here, with Marshall's help, Lily went looking to flex her ambition muscles, bag her an up-and-coming artist for The Captain. Marshall tried his best to mingle and let Lily do her thing. His family sized bag of Skittles and arsenal of colorless art jokes almost blew up his wife's spot, but in the end he gave Lily the support she needed when it mattered.

Ted was vulnerable after the breakup with Jeanette and was on his way to get her back, when Barney appeared and showed why he is such a dear friend. Only after naming Barney's various golden rules was Ted reminded "new is always bette," in what was my favorite series of How I Met Your Mother quotes this week. To help Ted, Barney came armed to the teeth with an amazing array of props to go along with a very much intact copy of The Playbook. 

At first I thought the various plays were a tad generic for a master like Barney, but then I remembered his metaphor about Ted wanting to cut and color on his first day at the salon. Barney had to work with what he had. Too bad Ted couldn't say penis "correctly." The girl with the top guns - or "Bravo, Oscar, Oscar, Sierra's" as Barney put it - would have been a much better farewell to dating than Jeanette and her huge set of multiple personalities.  

While Jeanette lacked any hint of impulse control, Robin's reaction to seeing The Playbook was surprisingly bottled. It was probably because at that point, she was too overcome with doubt about her decision to marry Barney to react anyway but shocked. Her reaction was a far cry from her trademark hysterical screams, like the one she directed at Barney while in bed this week.

That tone is usually reserved for Patrice. Still, Barney's explanation didn't try to make any excuses for his actions. Despite all the accompanying magic and misdirection, his words were pretty straight forward. He never will be able to keep the rabbit in his hat, but he will also always carry flowers for his one true love. 

As we said goodbye to Jeanette and Ted's dating career, we also were lead to believe that The Playbook was also gone at long last. While I am pretty sure we won't see Ted's red boots ever again, I have a sneaky suspicion that the book we saw explode into flames tonight, was once again a copy. Knowing Barney, the genuine article still resides in a very secret and most legendary hiding spot. What do you think? 

P.S. I was really hoping for one final Weekend at Bernie's scene, weren't you? 

Tags: How I Met Your Mother, Reviews