Even though the end of tonight's "Emergency Response," was perfect and centered around Leslie and Ben, the true MVP of this episode was Ron Swanson. And truth be told, he's kind of the MVP of every episode that's he's ever been on. He is the true constant on this series, always serving up winning lines and being the most consistent character.
The weakest parts were centered around the disaster drill, although I did enjoy some of the Animal Control quips about killing all the birds. The animal jokes in this episode were great overall. But I was more interested in watching the gala come together.
And couldn't have been happier when Joan Callamezzo was rendered incapacitated and Ron was forced to take over the show. It's quite clear Ron is capable of anything, but his television personality, which is no different than his regular personality, was perfection. If I had to choose between seeing Ron on television taking calls and Duke Silver performing, my hands would be tied.
Tom's attempt at persuading the chef to cater the event was great too. And I'd love to see Tom get married, just so I could see his registry. In fact, I think NBC should create a fake registry, just for Tom Haverford. Who's with me?!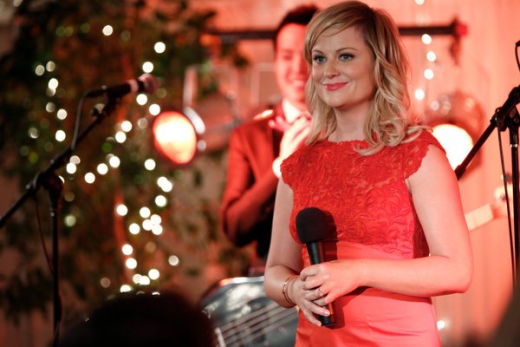 Ah, poor Andy. He doesn't even understand his first name is Andrew! What's the most depressing about this particular storyline is that what can Andy really do if he's this dense? It makes sense that he would fail the personality test, but I am quite curious to see what comes next for Andy. This show does such a terrific job of growing its characters; it would be a shame for Andy to be one character who just can't take the next step in his career.

As for Ben and Leslie? Even in the above picture, it's so painfully clear she's in love with him and him with her. And I couldn't think of a better way for these two to get married, under a tent with all of their friends, family, and community. And for a great cause. Next week's is an hour long episode! So check your DVR and load up on the kleenex. I'm willing to bet this wedding will be a tearjerker.

Tags: Parks and Recreation, Reviews