"The Furious and the Fast" featured events ending right where they began, in more ways than one.
It started with a standstill at Ewing Energies. Christopher and Bobby decided to play hardball. Bobby called in brother Gary and they terminated the lease that allowed the company to drill the oil on Southfork land. That oil seemed to be the companny's main source of income. It's what's keeping everything else running. Were they really thinking this would work?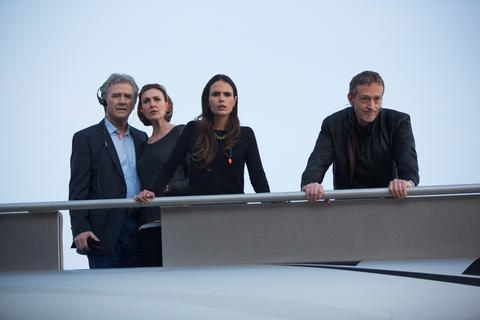 John Ross and Sue Ellen threatened to sell Christopher's methane patent in retaliation, but they needed Pamela's swing vote to do it. In that moment, I really hated the fact that Cliff has so much pull with his daughter. Sometimes it feels like she has to run everything through Daddy. 
I thought the race was silly... and I love racing. What did it prove exactly? Did winning a four car race really mean the city would consider turning their entire bus fleet to methane?
I found this part of the story really far fetched. In reality, any city would do a test sample and it would take months if not years of bureaucracy to change an entire transportation system. But this is TV, so I'll let that go. 
Bobby and Christopher's decision to stop the flow of oil seemed outrageously short sighted. Why destroy the entire company because Sue Ellen's on board? Why were they so sure that John Ross and Sue Ellen wouldn't dig their heels in and watch everything go down in flames?  
Gary could be their weak link. He always was and the best line of the night went to John Ross when he greeted his uncle in this Dallas quote…
Uncle Gary. Who the hell let you off the cul de sac? | permalink
I really had to laugh. Then his jab about Gary hiding behind Miss Ellie's skirts or in the bottom of a bottle was classic J.R. 

As a fan of both the original Dallas and Knots Landing I could only shake my head when Gary said he'd fallen off the wagon once again and Valene had left him, once again. If Gary's truly desperate for money, it's anyone's guess how much trouble he's gotten himself into this time. If Bobby's power play bankrupts the company and leaves Gary penniless, how long will he continue to have his brother's back?

And was I the only one rooting for Christopher's car to lose that race? I even like driver Ricky Rudd but that couldn't save it for me. Christopher waffles between whiny and smug arrogance. Every week I like him less and him using his relationship with Pamela to sway her vote didn't help. He hated her a week or so ago but he'll try to tug at her heart strings when he needs her.

For those who would say that John Ross does the same thing, you're absolutely right. But John Ross owns his bad boy tendencies. Christopher acts as though he's the better man but I just don't see it.

We didn't see much of Elena but I was surprised when I heard Drew calling her Ellie. Was that a coincidence or are the writers trying to make us believe that Elena will somehow take the place of Miss Ellie?

I hope it's coincidence because Elena couldn't hold a candle to the original matriarch of Southfork. As a matter of fact, if that helicopter had flown off with her on it last week I'm not sure how much I would have cared.

The big question for her and Drew is whether or not Bobby will sell them back their land. If he turns them down we're bound to see the makings of a whole new family feud.

Annie finally got some quality time with her daughter. The comparison between Western riding and dressage was an apt one. I always expected Emma would  end up at Southfork. I just didn't think it would happen this soon.

The final scene with John Ross on the phone with J.R. was difficult to watch and I knew it was coming. John Ross calling out for his Daddy after hearing those shots was heartbreaking. He was finally reconnecting with his father only to have him ripped away.

I know some fans will scoff at the show trying to recreate the iconic Who Shot J.R.? storyline but I believe it was inevitable. How else could J.R. Ewing die? Heart attack? Old age? Come on. This is J.R. If anyone deserved to go out with a bang, it was him. 

C. Orlando is a TV Fanatic Staff Writer. Follow her on Twitter.

Tags: Dallas, Reviews