What kind of Jenna are we in for now?
"Redefining Jenna" is going to keep me up for weeks as I think about it far after this review hits TV Fanatic. It's a good thing this is only the first half of a supersized Awkward Season 3.
Jenna's decision to give into her selfishness is a trait that has been building up in her all season - or even all series. Writing is a very personal experience that requires communication from the perspective of a sole author (usually) and with, a little help from Mr. Hart and Collin, Jenna has been delving into her writing and expressing herself even more.
There's nothing inherently wrong with being selfish, but for a relationship to continue working, some of that selfishness needs to be reigned in out of consideration for the partner's feelings. Jenna has mostly ignored that, and it came to a head tonight with Matty.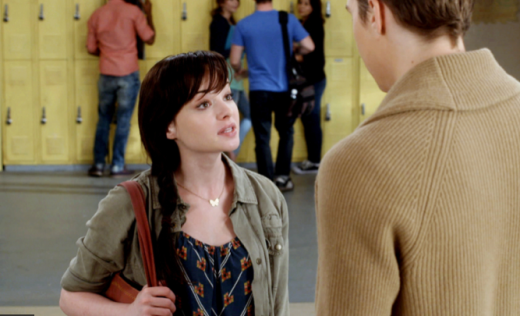 One of Awkward's best traits is being able to take plot points or the history of the show and completely reinvent them with a quick back and forth dialogue. Matty and Jenna's conversation in the car before the photograph exhibit is the perfect example of this:

Matty: Because you had your accident that same day we slept together. How do you think that f**ked with my head? You didn't even try to explain it to me. Instead you obsessively stared at me from a distance for weeks. What was I supposed to think?
Jenna: You didn't want to be seen with me!
Matty: Because I was mortified! | permalink

I – much like Jenna – completely disregarded any potential hang-ups Matty might've had with Jenna's accident. At that point in time, I was just getting to know Jenna and Matty was still an idea for Jenna's desires.

The tense moment with Matty and close proximity to Collin is the perfect recipe for disaster. Jenna can't seem to disregard her attraction to Collin and she openly wonders with Collin if the hunt is better than the kill. So there really wasn't any real shock that Jenna decided to kiss Collin in the car; no, the real shock came when she got away with it.

Things were finally looking good for Jenna and Matty. They were finally putting the truth out on the table and talking about what was going on for them and what they wanted out of their relationship, but Jenna cuts and runs with Collin. Is could be another reference to Lacey with Ben. Lacey was still dealing with the emotional fallout of the letter and Kevin had moved out. So those old, good feelings with Ben cropped up and she wanted a temporary escape.

Sadly, I'm not convinced that is the case. Jenna knew what she was doing. She wanted to be selfish in that moment, but the thing with being selfish is it always ends up affecting someone else.

With Becca officially out of the way, Ming now has the key to the Asian Mafia. Again, I'm not so sure I like Ming having that much power; I'm secretly hoping Becca comes back with a plot to take her revenge and rightful place back on top of the mafia.

Sadie has been mostly absent on the dramatic side so far after her money troubles came to life, but with her social life now on the other side of what she used to know, she's become a much better person when it counts. She's super nice to Matty and Lissa, very un-Sadie.

Jake and Tamara are, surprisingly, the healthiest of all the couples right now, but they've mostly been absent from any real drama. They had a small fight, but they also talked afterwards and smoothed everything out – no irreparable harm done.

What are you thoughts on the midseason finale?

Nick McHatton is a TV Fanatic Staff Writer. Follow him on Twitter.

Tags: Awkward, Reviews