"In Dreams Begin Responsibilities" was was the first episode of the season that didn't make me cry, but that didn't mean it was void of emotion.
Instead, it made me step back and ponder the decisions I've made in my own life and how I've gotten to where I am today because so many characters are in the middle of life defining moments. Amber is planning a wedding, Sarah is watching her daughter plan for a future with a man she barely knows, Kristina is pondering life as a mayor while Adam considers a drastic change in his business with Crosby and Julia is fighting for her son's future though education.
Let's break it all down, shall we?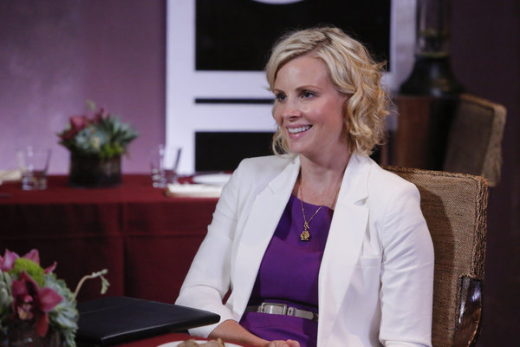 Will Drew ever win at love?

Before we dive into the heavier issues, Drew deserves a shout out here. The poor kid has been through hell and back trying to land a long-term lady love, and his luck always seems to run out before he's ready for her to walk out the door. He wasn't even reading the latest girl's signals right to the point he thought she loved Joni Mitchell music and she only knew one song. 

That did give us a wonderful scene between Adam and Drew with Joni Mitchell playing in the background, but the end result of the girl pretty much standing by her declaration of Drew being her college BFF and her noncommittal conversation after he shared that he only learned the entire Mitchell catalog to impress her was a shot to the heart. 

Julia is still struggling with Victor's poor reading skills

Things at the Graham house seem more tense than ever, and it's infighting between Sydney and Victor causing the commotion. Giving Zeek ammunition to later share with Camille in the "why we shouldn't sell the house" conversation, Julia took the kids over and Zeek had them working on the Pontiac engine with him as punishment. It was then that he realized just how bad Victor's reading situation was.

Once Zeek understood Julia's point of view and the teacher's suggestion of holding Victor back, and witnessed Sydney's frustration with Victor after she plucked the car manual out of his hands and quickly read a passage he was struggling to verbalize, he came up with a plan.

To take some of the pressure off of Julia, give Victor a sense of accomplishment and help him learn to read, the two of them would work on the car engine together. His old eyes couldn't stand the strain and the engine wasn't going to start itself, so it didn't matter how long it took Victor to read the directions, as long as they did it together. There is brilliance in that man's soul.

Kristina and Adam start funding her mayoral campaign

There are few things less desirable to do in life than ask others for money, but that's the life of a politician and Kristina and Adam had to start getting some money or go broke funding her campaign themselves. Heather is a harsh task master and, frankly, borderline annoying. But, I think that's exactly the kind of driving force a successful politician needs to win campaigns. She did not, however, do right by Kristina by selling her out against her values for a $20,000 donation.

As difficult as it was for Adam to ask for money, once he realized what kind of money she might have to take to win, he made an appeal to his old Luncheonette client Mr. Ray. It turned out that he had a son and education was high on his list of priorities. Sometimes when you take the time to ask the right questions, all turns out in the end.

Adam's first, unsuccessful conversation with Mr. Ray inspired Adam to suggest to Crosby they become their own label. Crosby was right on many levels that Adam's plan wouldn't work as he had it written out, but between the two of them I think they can come up with a modified plan that will allow them to be a lot more valuable to bands who haven't been signed and need to get their music out there. It will also mean a lot of new, upcoming bands for viewers to listen to while they play at the studio. Win/win!

Sarah is trying desperately to ensure Amber doesn't make the same mistakes she did

Sarah and Amber have had some close calls in the past, but they got dangerously close to really rough waters in their relationship tonight as Sarah tried to warn Amber about making a mistake with Ryan that might echo those that Sarah made with Seth. The real sticky part is some piece of Amber sees the same flashing lights that Sarah sees, but she's so in love that she won't allow herself to follow through on a discussion with Ryan about them for fear of pushing him away. That's a really bad reason not to talk to the man you're going to spend the rest of your life with.

Ryan's family won't be at the wedding because his mother married an ugly man who will ruin their beautiful day. During that chat was the first time Amber learned that Ryan's birth father was dead. For some reason, I felt as though that might have been a lie or wishful thinking on Ryan's part. It didn't ring true, the way Ryan stuttered through saying he was dead. In any event, the time for Amber to learn about these things is now, not after the wedding.

Ryan said he will introduce her to his family some day. Make some day next weekend. Take a road trip. Do it before you are committed. If you truly love someone, you'll let them see all of you. Wouldn't you want to know if the person you are marrying loves you enough to stay with you even though your past is haunted and painful? Amber didn't run through the PTSD and that was frightening stuff. Seeing her cower and almost whimper as she asks about his family is not how she deserves to be treated before she's married to the man she loves.

As I was watching them interact - while Ryan was making a sandwich and Amber was asking the questions about his family - it seemed as if they were already in an emotionally abusive relationship. It's certainly not intentional, but Ryan is so worried about protecting his own feelings that he's stomping on Amber's and after telling her to leave it alone, he happily exclaimed how much he loves her and wants to marry her. It wasn't right.

I certainly didn't expect their relationship to be easy, but I'm surprised how much of Sarah we're seeing in Amber right now. The Sarah that used to rush to the aid of Seth and let men drive her actions. She's only very recently grown beyond that so her eyes are wide open as she looks at her daughter. They're also filled with tears.

I'm not supposed to talk about the preview in this review, but I will say that I'm aching to see next week's episode. This week was so gracefully done and so tear-free; I know the latter part won't last. Take a moment and share your thoughts about this episode and Parenthood Season 5 in the comments.

Carissa Pavlica is the managing editor and staff writer for TV Fanatic. Follow her on Twitter and on Google+.

Tags: Parenthood, Reviews