Welcome back, fans. It's time to reviw Parks and Recreation Season 6 Episode 14!
Although your Olympic hiatus was short, I can never go all that terribly long without a new Swansonism.
This week's episode, while not uproariously funny, was a classic Parks outing. Leslie fights the good fight, Ben is the perfect husband, April learns something new about her work life and Ron is, well, Ron!
I wouldn't have it any other way.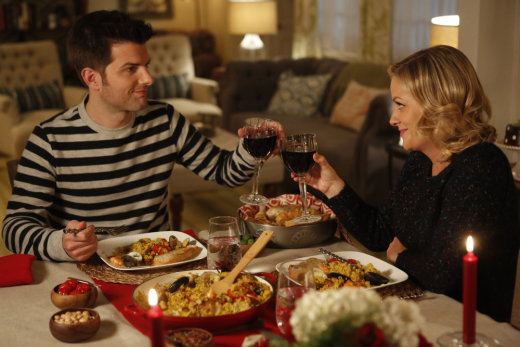 And the best part? Probably when Leslie could barely speak because she was so thrilled that her Pawnee-Eagleton youthful task force came up with such a brilliant idea.

And I'm so glad something finally went her way. Ever since she was voted out of office, I've been waiting for even a small victory like this. Leslie has to be the most inspirational character on television!

A close second place? April, easily. I've said it before and I'll say it again: Watching her character grow and evolve has been a real joy in watching this series. It's not easy to advance characters forward.

Viewers watch characters for continuity and regularity, especially comedies. This is why this series is so unique; it affords its characters the opportunities to grow and change.

Ben and Leslie's anniversary celebrations were definitely entertaining, especially Ben's reaction to the iron throne. I love his uber-fandom. And I am positive Leslie would get so, so into Game of Thrones if she just gave it a chance. 

One last thing: the fake NPR is so dead on. As usual, Parks and Recreation knows what its doing. And those are my thoughts for your thoughts.

I'm curious about Ben's love of Game of Thrones! Who do we think his favorite character is?

Tags: Parks and Recreation, Reviews