I've said it before and I'll say it again: where are the awards for Emmy Rossum? Another episode of Shameless and another dynamite performance.
Shameless Season 4 Episode 8 was the breakdown of weeks of build up after Fiona's epic mistake with Liam and the cocaine.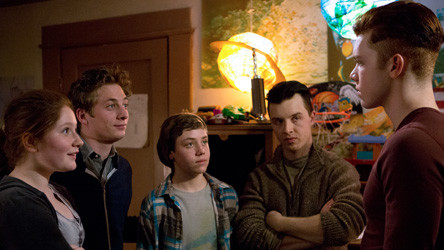 The guilt Fiona feels is obvious. There's been a lot of talk amongst commentators over when or not Fiona deserves the heat that Lip is putting on her. We all have our opinions and I believe that she does to a certain degree, but Lip has punished her enough at this point.
However, there really is no right answer here.
The two of them are the ones who are basically responsible for the other kids. Fiona and Frank are the only legal ones and Frank is practically an invalid at this point, save for a classic performance at Carl's bullying meeting.
The point is, if Fiona falls apart, everyone and everything will unravel with her. She has been the glue in their lives up until this point.
However after four seasons of Fiona ruling the roost, it became evident this week that everyone can go on without her. The question now is, can she go on without them?
As much as she messed up and she knows that and we know that, I couldn't help but feel really sad for her when she was walking around the empty house shutting the lights off in all of the rooms.
They're all growing up. What did you expect? You need to figure out your own needs.

V [to Fiona]
I think what Fiona needs the most is actually her family. When she fell asleep in Liam's bed crying herself to sleep, it seemed like her true breaking point. She had definitely lost her cool many times before, whether it was fighting with Lip or beating the fire alarm, but that moment really stood out to me.

It was a glimpse of everything she's on the verge of losing because of that one colossal mistake. 

Lip seemed to realize that he'd punished her enough. Whether it was because of Fiona's phone call or simply realizing that he can't raise a pre-teen and a toddler in the dorms, in the end he brought Liam home. By the way, was Carl drinking in that party scene when they were playing quarters? 

Carl and Debbie are in the most precarious positions. They are old enough to watch everything fall down around them. Yes, Liam almost died, obviously he is in a scary position too, just need to acknowledge that.

Even though Sammi has Frank around and is not the best influence, I was kind of happy Debbie had someone to talk to about the boy. She got her period, she's been mad at Fiona, she needed somebody. That scene with Sammi was enjoyable.

I am worried about Ian. I'm happy that he's back and seems to be holding his ground with Mickey like either you want this or you can leave, but I'm still worried.

His personality is all over the place. Maybe it's adolescent rebellion and finding himself, but didn't his laugh seem a little maniacal when he was talking to Fiona in the kitchen. I'm really wondering if he might follow in Monica's footsteps and have bipolar disorder.

So, what did you think of the latest episode of Shameless? Are you surprised V's mom kept the baby? Are Lip and Fiona done fighting?

My poll question this week is: Are you worried about Ian?

Leigh Raines is a TV Fanatic Staff Writer. Follow her on Twitter.

Tags: Shameless, Reviews