Shameless Episode Guide
Fiona struggles to find a job now that she has a criminal record while Debbie does what she can to make life difficult for the new girl in Matty's life on Shameless. p-=[
Carl and Debbie are unhappy with Fiona when she cleans house in preparation for a visit from her probation officer on Shameless.
Fiona is released but is ordered by the court to stay inside the house, leaving Lip as the Gallagher's guardian on Shameless.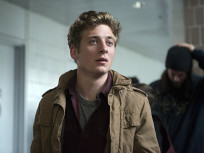 Frank gets some sobering news on this episode of Shameless. Fiona? She's in jail.
All of the poor decisions Fiona has made with Robbie finally come to a head on Shameless.
When Mike shows up at Robbie's apartment, Fiona's affair is almost outed on Shameless.
When Frank stalks his daughter Sammi, he is surprised at the connection she forms with him.
Fiona lies about a what happened when she's involved in a case of road rage on Shameless.
Fiona dates her boss while trying to keep the younger kids under control in the Shameless season 4 premiere.
In the Shamelss season 3 finale, it's Lips high school graduation and Fiona throws a surprise party while and Frank uses his gambling winnings to take Lip out on a special day.