After succeeding Chicago Fire on Wednesday nights, Chicago PD struck its own path. 
In the process, the freshman series depicted some of the horrors and triumphs the police go through on a daily basis - death, bombings, brutal stabbings and decapitations - while also focusing on internal politics that stir the pot even more. 
With that in mind, let's break down Chicago PD Season 1, TV Fanatic Report Card style...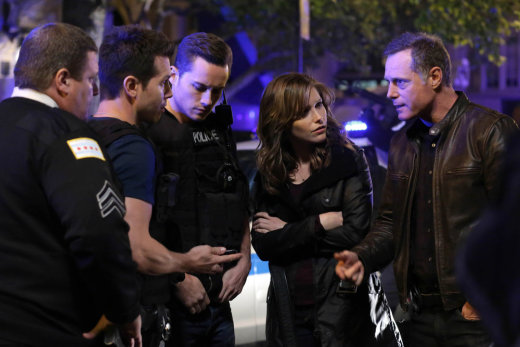 Best Episode: Chicago PD Season 1 Episode 1 held no punches. From the opening moments to the final few minutes, it was clear that PD was not your average cop show. After all... heads were chopped off. These tragedies raised the stakes for the Intelligence Unit, giving Voight's vow to clean up his city more meaning. 

Worst Episode: Chicago PD Season 1 Episode 11 . Events that happen in this installment are what bring Pulpo back, and, while realistic, Ruzek and Halstead getting brutally attacked was hard to watch.  

Best Character: PD's cast is solid and a case can be made for every character... yet Ruzek gets the nod. Fresh out of the academy, we're unsure if he'll fit in with the rest of the unit, but his ability to relate with everyone, particularly with Olinsky and Burgess, making him the character I most look forward to watching every week. Along the way, his tap dance with Burgess became the pairing we all root for (maybe more so than Linstead). 

Best Character We'll Never Know: Sumner, a victim of circumstance, was never the mole for Stillwell, just his lover. It's unfortunate we may never truly get to know her. Sumner kept up with the rest of the unit admirably - even outgunning them at times with a shotgun in tow - and brought a new perspective to the unit. Just as Willhite's old desk began to feel like Sumner's, she was unceremoniously shipped out. 

Worst Character: El Pulpo. Not only is he ultimately responsible for Willhite's brutal death, his escape from Intelligence is the reason why Dawson was put out of commission for the rest of the season. Pulpo is mostly just a villain that dragged on a little too long and his multiple escapes make his story a little too soapy to be realistic. 

Person We Never Want to See Again: Justin. What a drag on the story he was. No matter what Voight or Lindsay try, they can never get through to him and his actions put Voight in jeopardy again. Here's hoping he gets stationed very, very far away. 

Best Emergency:  Much like Chicago Fire, the best emergency was watching everyone come together after the bombing tragedy. Voight was unwilling to let Federal Authorities slow him down, embarking on his own whenever he can. It's a clear turn of character for Voight that is different from when we met him in Chicago Fire Season 1. Plus, if a Chicago Medical series ever does get off the ground, Dr. Arata and Holly offer a strong start. 

Biggest Twist: Chicago PD keeps Jin in the background all season, making us think he's just waiting his turn to get his own shining moment. In the end, it's revealed he's a mole for Stillwell. This twist alone is enough for the category, so we were completely shocked when Jin shows up dead on Chicago PD Season 1 Episode 15 in the same location where Voight calls him out for being the mole. 

Hopes for Season 2: I hope to see some more ladies in the unit (how about Burgess and Sumner?) since the female population is a little low; and while Internal Affairs has been a constant threat to Intelligence they have not truly sunk their teeth into the unit yet; hopefully, for next season, IA really gives the unit some politics and interference to deal with. 

Overall Grade: A-

YOUR turn, TV Fanatics: What grade would you give Chicago PD Season 1?

Nick McHatton is a TV Fanatic Staff Writer. Follow him on Twitter.

Tags: Chicago PD, TV Fanatic Report Cards