Chicago PD Episode Guide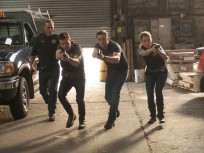 A friend of Voight's appears to have been murdered by a serial killer on the next Chicago PD>
Chicago PD returns with season 2 on Wednesday, September 24th.
On the season 1 finale of Chicago PD, Jin must come clean about his secret meeting, Lindsay goes to Voight for help, and Antonio isn't happy with desk duty.
A convenient scapegoat is blamed when Jin gets caught on Voight's computer on Chicago PD.
The members of the intelligence team are upset to learn that Pulpo is being released in the hopes of finding a deadly cartel leader on Chicago PD.
The Intelligence Unit does everything in its power to find out who set off the bomb at Chicago Medical on Chicago PD.
When a gang-related case involving several deaths and millions of dollars in stolen cash, Voight and the team investigate on Chicago PD.
When Lonnie Rodiger is found dead, Halstead's job is on the line on Chicago PD.
Ruzek and Burgess go undercover when Olinsky's daughter ends up being the only witness to a shooting on Chicago PD.
Voight gets a new handler from Internal Affairs who doesn't trust him on Chicago PD.