TV Fanatic Works Better with Prime Instant Video
40,000 other titles are available to watch now.
Family Guy Season 6 Episode 12: "Long John Peter" Photos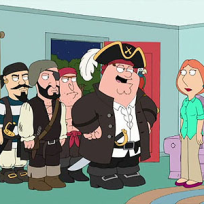 Added:
Displaying 1 photo
Around the Web
Want more Family Guy?
Sign up for our daily newsletter and receive the latest tv news delivered to your inbox for free!
Lois: Chris, honey, what's wrong?
Chris: Anna took a dump on me.
Lois: What?!
Chris: Yeah, she broke up with me.
Lois: Oh, she dumped you. That's what you meant to say.
Chris: What's the difference?
Lois: Well, what you said first was... well, I mean, when two grown-ups love each other very much, sometimes they show it by... never mind.
Joe: (about Peter's parrot) Hey Peter you kinda look like a pirate with that thing on your shoulder.
Peter: A pirate? Oh cool!
Cleveland: You should get a pirate name.
Joe: And a peg leg.
Cleveland: And a hook hand.
Quagmire: And you should have sex with that crossing guard even though she looked young, and then I found out she was 12.
(everyone stares at him)
Quagmire: I mean you should get an eye patch.
Joe: Eye patch would be cool.